Want to know, How you can make money with vector tracing? Vector tracing is use to convert raster graphics that are of low quality and pixelated. Into Vector graphics where vector graphics are of high quality, natural colors, clear lines, shapes, and more. So, by converting raster graphics into vector graphics you can earn a lot of money. There are various ways to make money through vector tracing. If you are curious and want to know more about vector tracing. Also, with the amount you can make from it you are at the right place.
What is Vector Tracing?
Vector Tracing is a simple term. In which we convert raster graphics to vector graphics. Raster graphics are of very low quality they are mostly in JPEG format. Which are pretty much unusable. Because we can not resize them or when we zoom them their pixels break. They are pixelated and almost become useless. So, what we do is that we take the raster graphics and trace them into vector graphics. Basically, with the help of softwares like Adobe Illustrator, Corel DRAW, and more.
Once we trace that image into Vector Graphics. After that, we can convert it into vector graphics. And the picture was pixelated. We now will have a high-quality picture. So, which means that vector tracing is a very useful skill. Above all, it can help us make a lot of money. Which we will discuss below.
Difference Between Vector Graphics and Raster Graphics
Raster Graphics
Raster Graphics are based on Pixels.
Most photographers use Raster Graphics.
You can download and share raster graphics easily.
Lastly, Raster Graphics has the larger file size
Vector Graphics
Vector Graphics contain Mathematical Lines and curves.
Mostly suitable for logos, geometric design, and type.
Sharing Vector Graphics is a bit difficult task.
Vector Graphics size is less than raster graphics.
How to Trace Vectors Using Canva
If you don't know how to trace vectors. Then you can easily trace vectors with the help of canva. So, you will have to follow these simple steps to trace vectors using Canva.
Then Upload the raster image so that you can convert it into a vector image.
So, after uploading simply click on the more button from the left menu.
You will see Draw Beta Option.
Click on it and you will see different pen tools. Like Marker, Pen, Glow Pen, and more.
So, use these tools to Draw against your image, and simply you will have a new vector image.
Furthermore, you can customize the image according to yourself easily.
After that simply click on the share button and you can export easily.
How Much Can You Make By Tracing Vectors
As you know you can make money from vector training. But do you know how you can make that money? And also how much can you make. So, now you will get the answer to everything. There are so many different freelancing platforms where you can work as a Vector tracer. Above all, you can make a pretty good amount from these platforms. Basically, there are tons of freelancers who are making more than $100. Just for tracing a single picture.
So, stay with us and now we will share with you some of the best platforms. Where you can work and earn money quickly.
Freelancing
Firstly, in over list of the best places to earn money is freelancing. You will also agree when we will share the pros and cons with you. So, as we know there are so many different freelancing platforms where we can work and earn money. Just like that the scope of making money as a freelance vector tracer is also very high. If you want to make $50 for tracing a single vector image. Also as a beginner then you can consider freelancing.
Highest Paid Vector Tracing Freelancer Working on Fiverr
Here is the list of some freelance vector tracers on Fiverr. They are working on Fiverr and making money easily by selling this skill.
zubairfb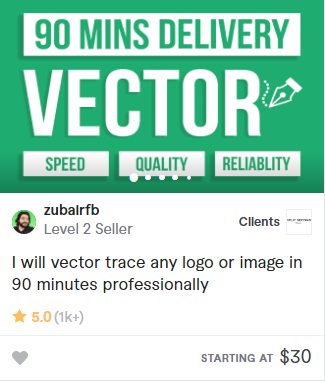 zubairfb is a level 2 seller on Fiverr. So, he has worked on more than 2000 projects. Basically, he can trace any logo or image. Just in 90 minutes with professionality.
So, for tracing a single image to a vector or resizing it. He will charge $30 which he will deliver your image in a day. But for customizing, tracing, and modifying the vector file. He is going to charge $70 which he will provide 5 free revisions if there are any mistakes.
jngmadhusanka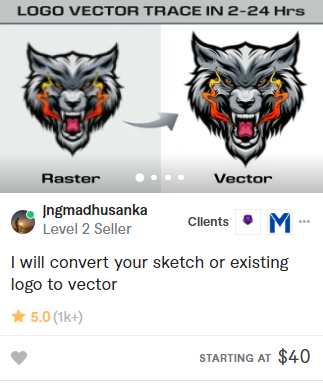 jngmadhusanka can convert sketches or existing logos to vectors easily. And he has worked with more than 1200 clients. With a 5-star rating which means he is a professional at work.
So, for converting a single complex logo file to a vector he charges $40 with the two days delivery time. And unlimited revisions but for converting a simple raster image to a vector image. He charges only $10 whereas he also provides unlimited revisions for $10.
vectorqo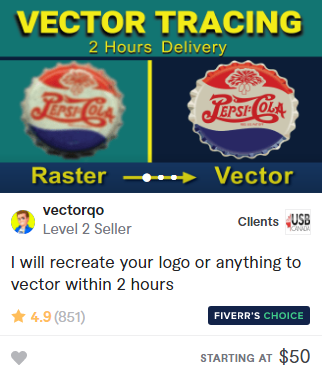 vectorqo can recreate a logo or any other type of image into a vector image. Only in two hours and he charges $10. If the image is simple and easy and he will deliver it in a single day. And he provides unlimited revisions if there are any mistakes.
But if you want him to redesign a complex image into a vector file. Then he is going to charge $50. And he will deliver the vector file in two days. Also, with unlimited revisions.
mirzaramzan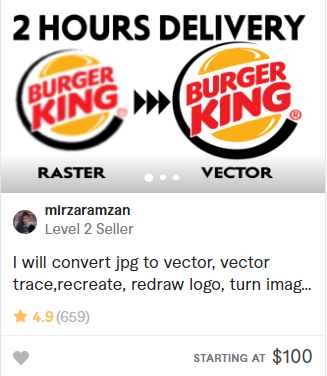 mirzaramzan convert jpg to vector, vector trace, recreate, redraw, logo, turn image to high quality, and more. He charges 100$ for the services we mentioned above.
No matter how hard the file is to convert. He will deliver it in one day and will also provide unlimited revisions. If you want any further changes he will do them for free.
The Bottom Line
Vector Tracing is a highly demanded skill these days. Freelancer who registered only a few years back. They got a chance to work with more than 2000 clients. And the average amount was more than $100. You can easily create vector graphics from Canva. You will find the link above on how to create a section. And pretty everything we discussed in this article. Read everything and you will be able to earn money.