Are you interested in earning money online as a Freelancer? Let me tell you that you are in the right place. Working as a Freelancer has many benefits. One of the great advantages of working as a Freelancer is you get plenty of time to spend with your friends and family. You won't have a Boss to report to either. It will all depend on your skills and you can make more than 1000$ Plus monthly based on your skills. So, if you would like to know the Best Websites that can pay you well for your skills, you need to do some research. Then CashMig is here to help.
How You Can Earn Money By Working As a Freelancer?
Working smarter means Working as a Freelancer. So, working as a Freelancer means that you can work from anywhere you want. But interested to know how you are going to earn by working as a Freelancer. Then it all depends on your Skills. The more skills you have to offer the more you can Earn. For Example, if you are a Web Designer and you know how to Design a Website. Then you can simply earn more than 100$ Per Project. If you have already been working and those Websites were not paying you much. Then do not despair. CashMig has searched the best Websites For You.
You can also read:
Earn 25$ Per Referral | Earn Money By Captcha Solving | Make Money by Uploading File
List Of 7 Best Websites To Earn Money As a Freelancer:-

No matter what type of Freelancer you are. And what type of Skills do you have to Offer? Upwork will provide you with the work. You can Offer Your Services as
Data Entry
Translator
Financial Advisor
Copywriter
Graphic Designer
Blog Writer
and many more.
Everyone is Welcome here with a warm heart. What makes the Upwork best is its Bidding System. It means that you can simply create your Bid to 5$ per hour or more according to what you deserve. There are many different websites but sometimes you end up at very few Dollars. Whenever a client will come they will see your Bid. Which means your Per Hour Charge rate. And if they are interested then they can contact you.
The Second way to get Work as a Freelancer on Upwork is that you can Bid on Projects too. Just say the client posts that he wants a Financial advisor for his Business. And you know that you can give him Good Advice about the problem he is going through. Then you can Bid on that project. Depends on you how you Bid low or High. Because there are tons of other people Competing for the Same Project. But, once you get the project it will all be worth it. Upwork has great customer service too.

Fiverr is one of the Best and Highest Paying Websites after Upwork. You can Find Some Quality Clients on Fiverr easily. Simply create your Fiverr Account and after That. You need to Create a Beautiful Gig. Because your Gig is Everything on Fiverr. It can pull away a client from you. Or a client can simply run away after seeing your Gig. You can sell your Skills at Very High Rates on Fiverr.
No matter which skill you have you can Sell it Own Fiverr. Although Fiverr takes a lot of money as a commission for using their platform. But even after that, you can earn a lot of Money. You can also get clients by putting an Application for the Client. Your Application is Like a Proposal On the Upwork. So, make sure it attracts the Client.
You can Sell your Services on Fiverr as
Writing and Translation
Digital Marketing
Life Style
Data
Programming
Music and Audio
And more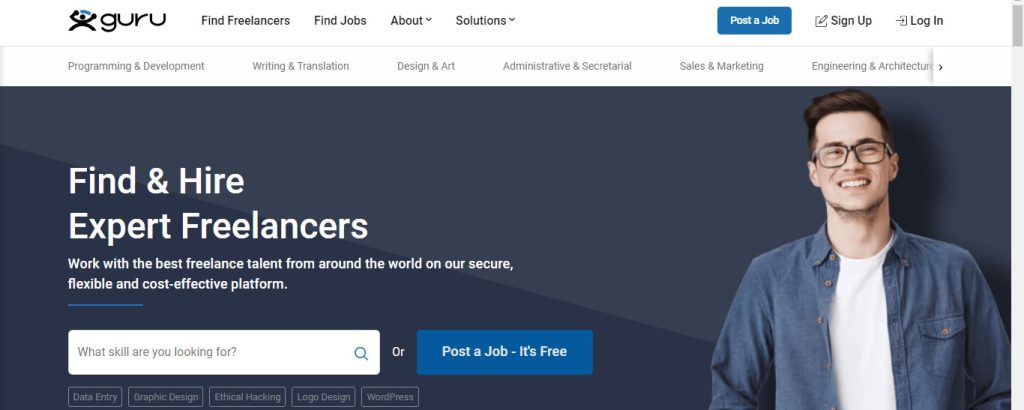 Guru is the Best Place to Find work as a Freelancer and to Hire as well. The website has a lot to offer to the New Freelancers who Sign up. They Can Sign up free of cost easily. But if you want to make your profile stand out from others. You might have to pay as well. If you are a Writer then Guru has a lot to offer to you. As stated on their website you can offer your skills as
Logo Design
WordPress
Game Developer
Graphic Designer
Data Entry
Ethical Hacking
With so many other skills too. It is the best place for Companies and Freelancers to come and work together. From all around the globe. Their Customized Job Listening feature makes it a lot easier to find and hire for the Jobs. You can easily make more than 700$ Monthly. And can get your Payments through Paypal, Bank transfers easily.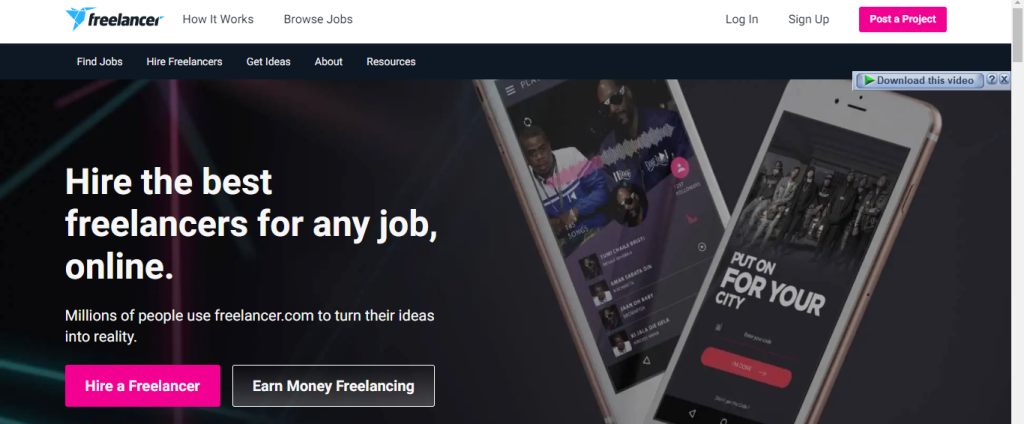 Freelancer is in the market since 2004. If anybody is looking for the best Freelancer Website then it is for you. Freelancer provides quality projects. And those who want to work can simply apply for it and can start working on the project. Those who want to post their work also can simply post. They Offer your 24/7 Customer support. And they Protect you from Scammers also they Pay well depending on what you offer to the Client.
Sign up easily on Freelancer. And you can start getting projects. You will have to do a little bit of Application work while signing up if you want to work as a Freelancer. Also, guys, they take a 10% commission on every project. After that, you can easily withdraw your payment. Through Paypal, Wire Transfer, and more.
Getting a Job as a Freelancer is a pretty easy task. A Client will come and post a job after that you can simply look for the Job. If you can do it then Apply for it and you can get your work. There are many other Freelancers Applying for the Same Job. So, make sure your proposal is the best. And also your profile stands out from all of them.

PeoplePerHour is known for its connection between Freelancers and those who Hire. On PeoplePerHour you can hire a person for an Hour or simply for a Project. Simply post the work you want to get done with the Price. And in no time you can get a match with an expert Freelancer. The PeoplePerHour provides you with a great Customer Service and Support team. Which is available 24/7 to Help and Guide you.
If you are new as a Freelancer. If searching for a good platform PeoplePerHour is for you. Build a Great Profile once you will build a profile. After that, you can start searching for the Projects. Sell your most demanded and Best skills at the best Rates.

SeoClerk is just like any other Platform Like Upwork and Freelancer. This Platform was launched on 2011. Since then they are giving Jobs to the Best Search Engine Optimization Freelancers. If you are looking for an SEO Service then SeoClerk is for you.
Also, if you want to work for SeoClerk as a Freelancer you can too. Their Website is simple you get different gigs and you can also create your one. Simply select the category and you will have everything on the go.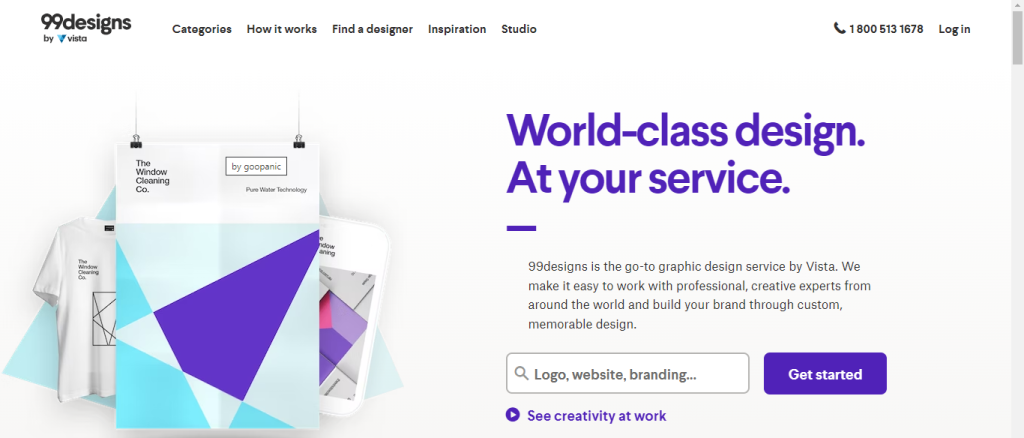 99designs is the Best Website for you if you want to work as a Graphic Designer. Offer your services to different companies. To make their Websites, and products look more professional. As stated on their website Good Design Makes Great Business. So, if you have the potential to create good designs then you do visit 99designs. They offer you a very strong and dedicated environment for work. With a High Payment Security.
The 99designs community is very active though. You can find and work as a Freelancer easily. 99designs will charge you introduction fees of 100$. After that, the fee for using their platform is 5 to 15%. The minimum time for Payment is three days through your Linked Paypal or Bank account. But if you have a High level then you can get paid early.
Wrapping Up!
We have shared with you the 7 Best Websites To Make Money As a Freelancer. Choose the Platform which you think is best suitable for you. Do your own research before choosing. After that, you can start working as a Freelancer. And You can Make Money easily as a Freelancer in the Community.