Game Art is the heart of any game. Because any type of images, videos, and characters we see are known as game art. Want to earn money by creating game art? Then keep in mind that it is an easy job. But it requires a lot of skills and hard work. If you are a skilled person and can put someone's concept into real game art. Then you can easily make $100+ for each art you create. There are a lot of ways to earn by creating gaming art. But before you can start making money by selling game art. We will share with you some of the best tips that will help you to boost your career in game art. And you will find one of the best platforms that can pay you well for creating game art in this article.
What is Game Art?
It is the process of creating a game. Which involves creating all the visuals that are going to display on the screen. We play games every day in over normal life. And we see characters, guns, maps, storyline. Almost, everything related to visuals is known as game art. Creating game art is not so easy but with the right tools and knowledge. You can easily create any type of game art without any hustle.
How to Create Game Art?
There are basically two types of Game Art
So, it depends on which type of game art you want to create. Most of the tools remain the same but the first step is to decide. The process of creating game art is almost the same as creating and designing any other type of visuals. Like you can use Adobe Photoshop, and Illustrator After Effects to create stunning and beautiful game art.
Study all the descriptions and concepts the client will give you.
Then brainstorm ideas about how you will create game art.
After that find references and textures of your concept.
Open up your favorite software like Adobe Photoshop, Illustrator, or more.
Then simply create a new project.
Draw shapes, design, combine images, text, and more.
Add details and also set the perspective.
Keep working and adding things until you get your concept in real game art.
Finalize the game art by doing some final touches.
Lastly, Export your project into your required format.
Best Softwares and Tools for Creating 2D & 3D Game Art
Here are some of the best software that you can use. If you want to create your own 2D and 3D game art. All of these softwares can help you make beautiful art quickly. Also, you can create animations, characters and so much more with the help of these softwares.
Adobe Photoshop, Illustrator, After Effects.
Blender.
Unity 3
Maya.
Unreal Engine.
Zbrush.
CAD.
3D Studio Max.
How Much Money Can You Make by Creating Game Art?
The Global Value of the Gaming Market was $195.65 billion in 2021. If a market of a particular industry is so big then how much an individual creator can make.
Who doesn't loves to play video games? But everyone who loves to play the game doesn't know, How the game is created? So, for that reason, they hire an expert. If you are an expert at creating game art then you can make around $40,000 per month. Just by creating the game art.
Earning so much money requires a lot of experience and skills. But if you are just getting started. Then I recommend you to first try freelancing. Because you can make around $100 for creating small game art. You will get experience and the chance of working on different projects. When you will work on different projects you will learn a lot of new skills. As an inspiration for you here are some of the highest-paid freelancers. Who are creating game art, on Fiverr and making $100 for individual projects.
Earn Money by Brand Style Guides | Make Money by Selling Photo
Highest Paid Fiverr Freelancers on Fiverr for Creating Game art
Here are some of the top paid freelancers. Who are currently working on Fiverr. And are making more than $500 on daily basis. Just by working a few hours on Fiverr. So, we highly recommend you to Join Fiverr from the link given below.
vikki_timml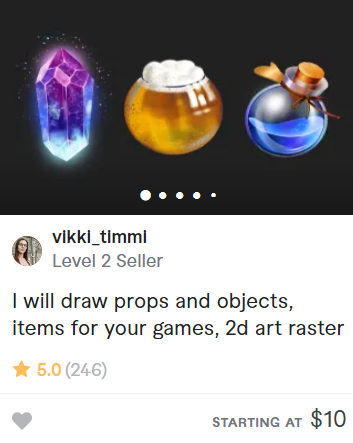 vikki_timml is working on Fiverr as a freelancer. And she is making $25 for creating game arts. Basically, the work she is doing is so simple. That she designs little props and objects for games. Just for designing a little prop, she is charging $25. It is a very basic skill that you can learn easily.
doantrang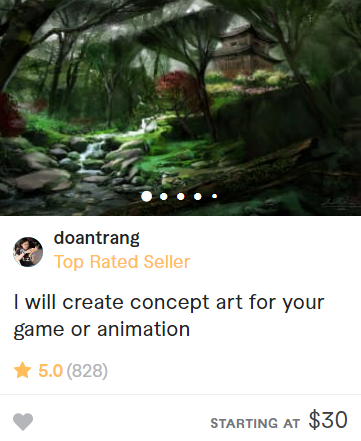 doantrang creates concept art and animations for games. For creating a single game art or animation. Through Fiverr, she is making $30. The commission on Fiverr is low. So, she easily gets $30 straight into her account. Because she can create concepts for any game or animation. And she already created concepts for 828 clients till now. With a rating of 5 start
hoangtijieng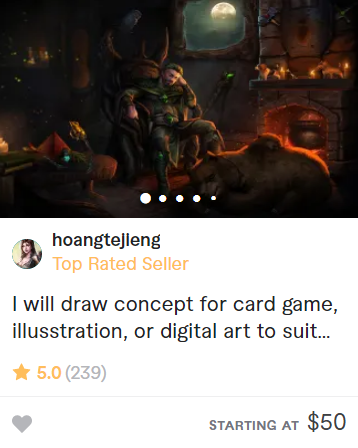 hoangtijieng is the top-rated seller on Fiverr. Who has worked on more than 230 projects. For each project, he charges $50. The skill through which he is earning is game art. So, if you are thinking that how you can earn the same. Then the answer is to Join Fiverr. And read the complete article to do the same.
theletdown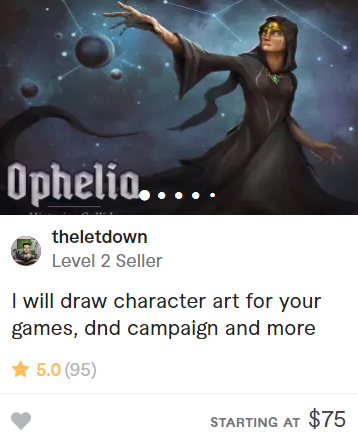 theletdown is a level 2 seller on Fiverr. And he draws character art, games art, and more for your game. He is starting at $75 on Fiverr. And for bigger projects, he charges even more. Monthly he is making hundreds of dollars. As a level 2 seller on a monthly basis, he must be making more than $1000 easily.
Final Words
If you follow this complete guide carefully. Then you can Earn Money by Creating Game Art. We shared with you some of the easiest ways to earn money by making game art. A lot of tools, methods, and best platforms to earn. Furthermore, if you think something is missing in this guide. Then you can search for yourself too. There are tons of other useful materials available on CashMig. You can read those articles and earn by other methods too.