Landing Page is a single page. Which is specifically used for marketing and advertisement purposes. A landing page is also known as a home page. Most landing pages consist of Name, Company Name, Company Email, Company Contact, and more. Landing Page is all about advertisement. This means that the company can generate leads from the landing page. So, a landing page helps any company to increase its sales. Every company wants to have the most attractive landing page. If you can create one for any company. Then they will pay you a lot.  
What is Landing Page Design?
The landing page or Home page is the most important aspect of every company website. It is the first page that we see when we visit any website. Landing Pages mostly contain company contact information or individual person contact info.
Name.
Company Name.
Company Email.
Phone Number.
Company Size.
Company Social Media Profiles.
Employee Size, Employee information.
Also, there are different types of landing pages. As a landing page consists of only one single page. So, it can contain product information, personal portfolio, referral landing pages, and explainer landing pages.
How to Design a Landing Page With Wix?
There is a lot of different software that can help you create an attractive landing page. But some of them require a lot of expertise. So, if you are a beginner and want to create an attractive and responsive landing page. Then you can use Wix, here are a few simple steps to create a landing page with the help of Wix.
Search for Landing Page Templates and the whole list will appear.
Select the template which suits your niche the most or you like the one most.
After that click on the edit button and change the landing page name and other info.
Once, you are done with the editing and you think the Landing page is perfect.
Simply, click on the Publish button.
Tips to Create an Attractive Landing Page
Here are a few tips for you. If you are a beginner and you want to create an effective landing page.
The first thing to remember less is more.
Don't put unnecessary details on your page.
Your page must be clean and friendly.
It must attract users.
Use a good combination of colors and fonts.
Best Softwares to Design Landing Page
Wix.
Divi.
Instapage.
Unbounce.
Clickfunnels.
Make Money by Selling Photo | Earn 25-50$ by Creating New Fonts 
How to Make Money With Landing Page Design?
Landing Page Design is really easy to create. As we discussed that it is a single page that we can easily create using pre-built templates. All we have to do is just edit them. So, now let's discuss how you are going to earn money by designing landing pages. First, there are many different methods through which you can earn. So, one by one we will share with you all of the methods. Which are effective and can help you make $100 on the daily basis.
Create your Own Landing Page
You can create your own landing page and earn money through it. Basically, at first, it will require investment. But, if you have investment and you can create your own landing page. Then you can earn some real cash. Between $50 to $100 daily. Also, there are multiple ways to earn if you have your own landing page.
Advertising
You can put add on your landing page and can earn a lot of money. There are a lot of different companies which offer you money. If you put their ads on your website. Most people use google Adsense. But you can find sponsors if you have a good landing page. Your earnings will depend on the traffic your landing page will generate.
App Store
Create your own app store and put your designed landing pages there. Put a price you want for each of your templates. And if someone like your templates then simply they will buy them from your store. After that, you will be able to earn money from your app store.
App Store is a great idea to kick start your career as a landing page designer. Because you can work on different platforms. And it also doesn't require any investment. There are a lot of 3rd part app stores. Where you can create the store and start selling your templates.
Work as a Freelancer
If you don't have money to invest then you can choose to freelance. But, you need a bit of expertise and a good guide if you want to earn by freelancing. So, here is a complete guide for you. There are so many various platforms where you can work as a freelancer. Few of them are trusted and few of them are not. But today we are going to share a very trusted platform Fiverr. It is being used by millions of people. Above all, the commission rate on Fiverr is very low.
Here are some people on Fiverr. Making more than $100 by creating landing pages. You can get inspiration from them. And if you need a guide on how you can create your own Gig. Then you must visit their profiles.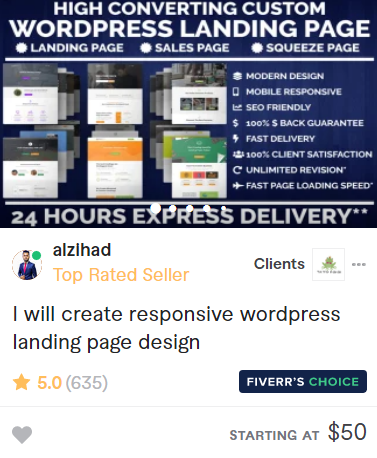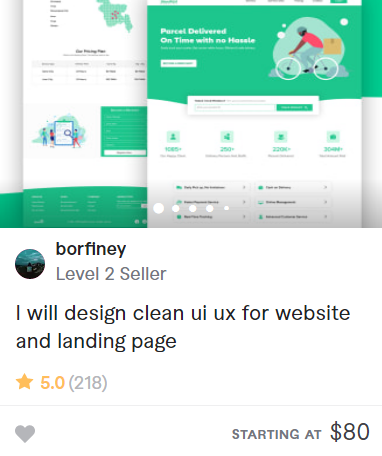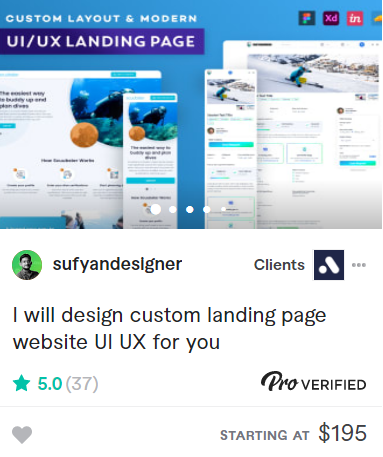 alzihad creates responsive landing page designs with the help of WordPress. And he is starting his services from $50. If the project is bigger then he will charge even more. Because creating a responsive landing page is not that easy.
borfiney designs a landing page on Fiverr. Starting his services from $80. And he has worked on 218 projects till now. With a 5-star rating. He can design the landing page UI and UX for any type of website quickly. Because he is very skilled.
sufyandesigner designs very beautiful custom landing pages. Charging $195 for designing a single landing page. You can also learn the skill for creating website landing page design UI and UX. From the above how to create a section.
Conclusion
You can Earn Money With Landing Page Design. In this guide, you will find everything related to the landing page design. If you are a beginner then there are a lot of things waiting for you in this article. We hope that you will get benefit from today's article. And if you think you can not design landing pages even after all of these simple tricks. Then there are tons of other ways which you can check out on CashMig.