We all use social media too much nowadays. And we sent all our party and events invitations on Social Media. We simply use different social media platforms and send messages to our friends. We want to invite you to our function. But it doesn't leave a good impact. So, we sent them Invitation Cards Physicaly. And it possesses a good impact on People. There are a lot of people who arrange parties, functions, events, and more on daily basis. So, to have a good impact on people while inviting them. They need professional Invitation Cards. Which they can not design. Today in this article we are going to teach you to design these invitation cards. So, you can make money by designing and selling those invitations design.
What is Invitation Design?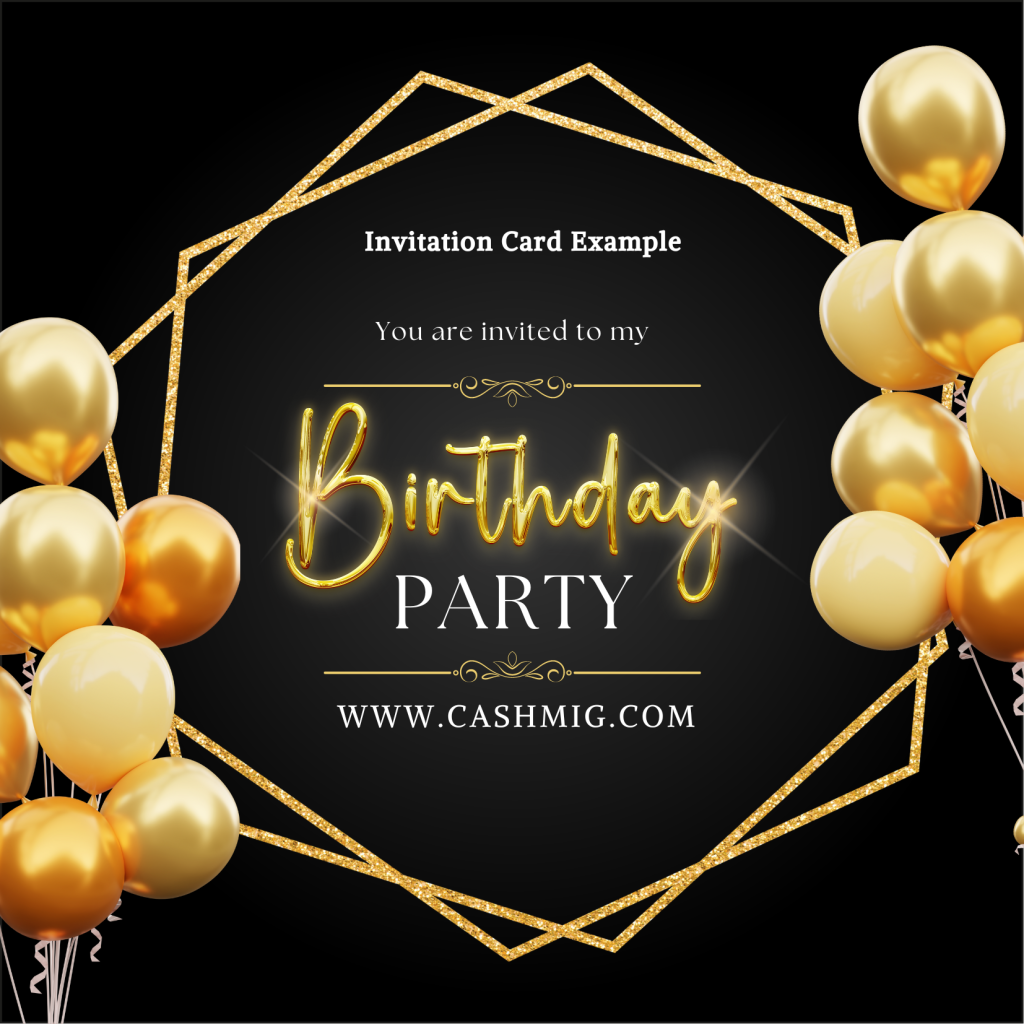 Everyone knows what is Invitation. Basically, it's a card that is visually designed and we sent it to someone we want to invite to the party or event.
Why We Need Invitation Cards?
As you know today everyone is busy using their Mobiles. So, no one has the time to attend parties, events, and more. But what we can do is send them invitation cards which are highly professional looking. So, what will happen they will consider it a Big Event. And they will definitely come to have fun.
Places where Invitation Cards are Mostly Used
People Mostly Use Invitation Cards for,
Wedding Invitation.
Birthday Party.
Anniversary Celebrations.
Tons of other Special Events and Functions.
How to Design Invitation Card With Canva?
Now, it's time to teach you how you can design invitation cards. Not just normal ones but professional looking and unique. So, if you want to design professional initiation cards. Then don't miss any of the given points.
The First Main Step is to, Sign-Up on Canva by Clicking Link Below.
After that, you will see a Search button simply head over to the search button.
Then search for Invitation Design.
Now, you will see more than 23,000 Templates only for Invitation Design.
Simply, you can select a template from any of them.
Then click on the template and you will be in the customization section now.
Now, in this customization section, you can easily customize everything.
Make changes that you want and simply click on the export button.
And you will see different options you can choose any format or platform to export files.
Invitation Cards Designed With Canva
If you still don't believe that you can design professional look invitations. Just by using pre-designed templates. And can make them look completely unique. Then here are few designs that I designed with Canva. You can simply have a look at all of them and see how professional they are.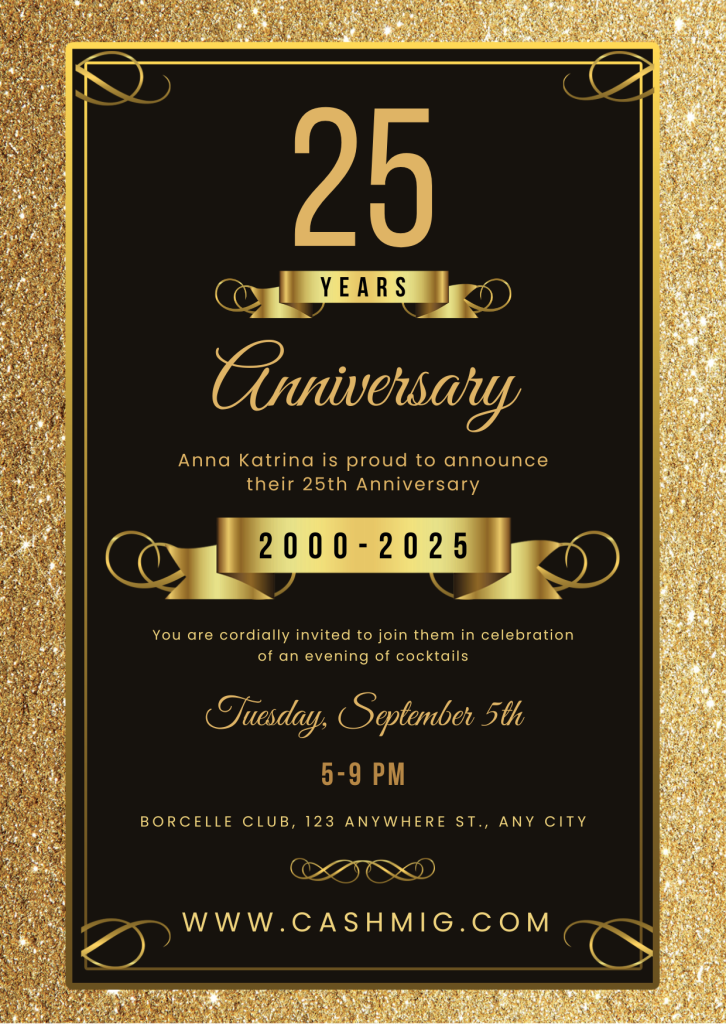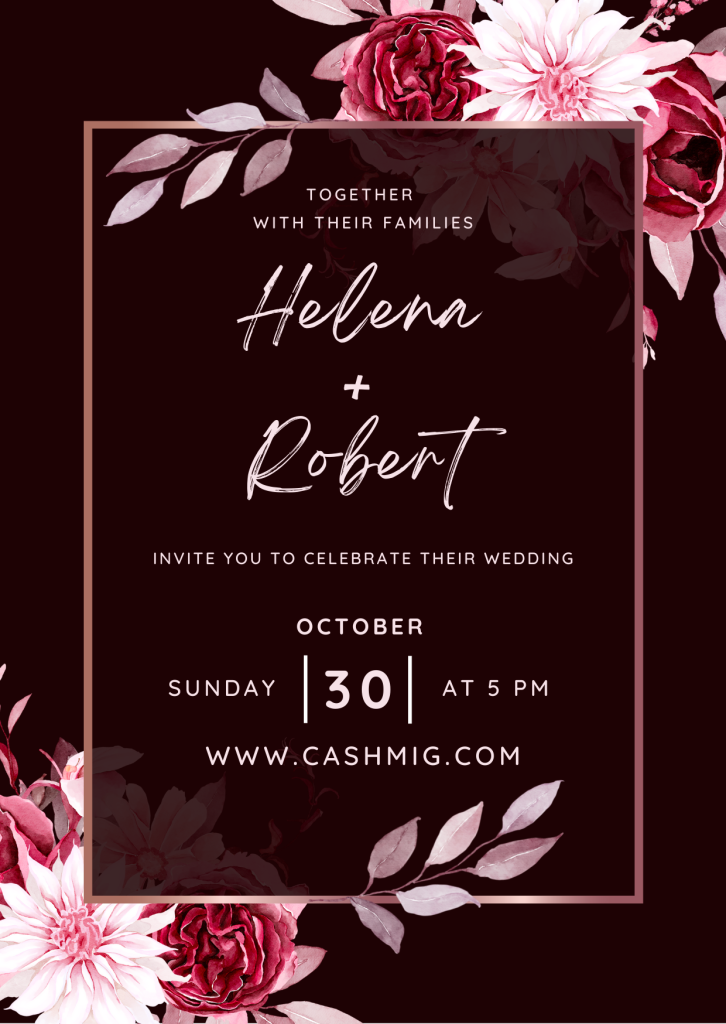 Tips to Design Good Invitation Cards
There is no big deal when you are designing invitation cards. But if your invitation card doesn't possess a superior impact on the person you want to invite. Then they will assume that your function is not going to be so good or big. Even though it is which means that designing a good look invitation card is necessary. So, here are a few tips for you. That can help you design professional invitation cards.
Play with the Templates you are going to use for your Invitation Card.
Choose a consistent color scheme for your design.
Use Eye Cashing Fonts, Images, and more.
Make sure to put Event Time, Event Place, and all other details.
Decide Early on the Size of your Card.
Lastly, Use Very High-Quality Paper for Printing your Cards.
How Much Can You Make by Invitation Design?
It's very easy to make money by designing invitation cards. Simply, by designing a simple one-page invitation card. You can easily make $30 to $50. If a customer wants you to design an invitation that has more than one page. Then definitely you can charge them $50 to $100.
The amount you can earn will vary depending on the platform and the skills you have.
Best Ways to Make Money as an Invitation Designer
If you want to earn more money by spending less time. Then you will have to choose the platforms which have potential. To give you work on a daily basis and the amount you deserve.
Consider Freelancing
Freelancing is the way to go as an Invitation Designer. On the freelance platforms, you will get a chance to work with different clients. And mostly, the client wants you to design a single page. For which you can easily charge more than $50 to $100. So, if you want to which freelance platform is the best.
Then you will find the Link Below, Click on it and Join Fiverr. Fiverr is the best platform as it offers high-quality rates, and safe and trusted clients, with minimum commission. Also, tons of different portions for withdrawal.
Highest Paid Invitation Designers
Here is the list of some of the highest-paid invitation designers. Who is working on Fiverr as you can see from their Gig. And you can look at the amount they are making.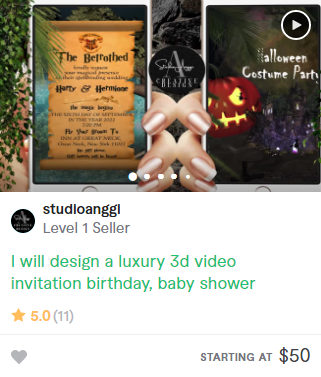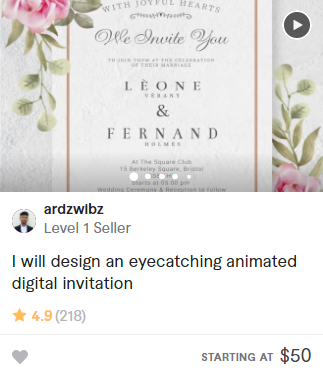 studioanggi is a level 1 seller and he charges $50. He will create custom and exclusive photos and videos for your invitation.
Furthermore, for designing a single invitation video and 50 small videos for guests' names he will charge $220.
ardzwibz designs eyecatching and animated invitations. You can simply contact him if your design is simple then he will charge you $50.
Furthermore, if you want to get his services at high quality. Then for designing a single invitation he will charge $120.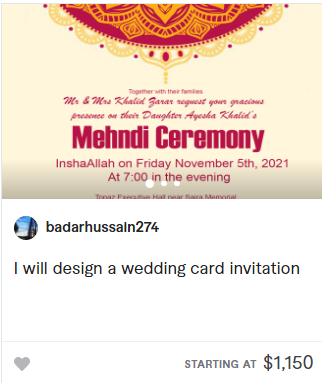 baddarhussain274 charges $1,150 for designing a custom two-sided invitation card. Where he provides two revisions to their client.
Furthermore, for designing a three-sided invitation card he will charge $1,250. And he will deliver the card in a day.
Final Thoughts
If you are a person who loves receiving money on the daily basis. Also, don't want to work so hard. Then you can simply design Invitations. If you read the complete article then you will be able to design invitation cards easily. And by selling them on Fiverr or other platforms which you like. You can easily earn up to $100 for a single Invitation Design. There are tons of people who make more than $1,000 for designing these simple invitations.