Landscape Designs are necessary if we want a beautiful exterior design. They are mostly used in residential development. Such as houses, parks, hotels, and more. Where they want a beautiful exterior design for their free space. But as you know they can not design landscapes. So, they hire a person online who can help them in designing landscapes. So, today in this article we will share with you the easiest way to design landscapes. With the best-earning platforms. If you are interested and want to know more then you will have to read till the end.
What is Landscape Design?
Landscape Design is all about creating beautiful exterior living spaces. When we visit a hotel or a park we see these types of landscapes design. And we say wow how beautiful the design. That beautiful design is the hard work of a landscape designer. We see landscapes designed mostly in offices, restaurants, hotels, parks, public areas, swimming pools and so much more.
The main reason we use landscape design is that it makes the exterior beautiful. Because if we want a beautiful exterior design for living space. Then we need to hire an expert landscape designer.
How to Design Landscapes?
If you are a beginner and don't know how to design beautiful landscapes. Then we are going to share with you a few tricks. That will help you to achieve perfection in your designs. Make sure that you don't miss anything.
The first thing you need to do is learn about the space. Measure the space you have and plan how you are going to get the most out of this space.
Secondly, think about for which purpose your space will be use. For example, it is for a hotel, restaurant, public place, or more.
Your design will depend a lot on the theme. If your design is for a hotel then you can create a waterfall, and add plants to design a beautiful living space.
You can add different types of plants to your design and can link them to different elements. Like a waterfall with a beautiful green pattern around it. Which will give the waterfall a wild look.
Make sure to pay attention to details. Don't miss out on anything in your design. Because if you will miss out on anything it will affect a lot on your whole design.
Lastly, Plan the future and think about how you are going to protect the resources. Like your plants, waterfall, decors from rain, storm, public, and more.
Best Softwares For Landscapes Design
No matter how good your skills are at designing landscapes. But you can not achieve perfection in your work. Until you use the best software. That can help you in designing amazing landscapes. So, if you are wondering what are some of the best software to design landscapes. Then don't worry we are going to share with you five pieces of software. That you can use to design any type of landscape you want easily.
VizTerra.
PRO Landscape.
iScape.
Garden Planner.
Pool Studio.
How Much Money Can You Make By Designing Landscapes?
Now let's jump to the main question. How much can you make by designing landscapes? So, there are multiple ways to make money as a landscape designer. It depends on you which one you choose. In this article, we will share with you all the best ways to make money as a landscape designer.
The average salary of a landscape designer is $62,534 per year. But there are thousands of freelancers who are making more than $200 for designing simple landscapes design. So the amount you can make depends a lot on your platform. And the second thing is your skills. Because the higher your skill level. The higher amount you will earn.
As, you know there are no free lunches.
Best Platforms to Make Money as a Landscape Designer
As we told you above that the amount you can make depends a lot on the platform you are using. We suggest you to work as a freelancer. Because you can easily make $100 for small landscpaes projects. And if you dont want to work as a freelancer. Then you can open your own store where you can create and sell your own design. Furthermore, now we are going to share with you different platforms. Which you can use to make money as a landscape designer.
Consider Freelancing
As you know freelancing is the most demanded skill these days. People love to sit in their homes. And they want everything to be online. So, they love when they order something online. As you know when they will visit online for ordering the landscape design? And if your profile is good then they will definitely contact you. After that, you can charge them any amount you want.
Below you will find a Link to Join Fiverr. Fiverr is the best freelance platform. Providing jobs to Millions of Landscape designers.
Highest Paid Landscapes Designer On Fiverr
Fiverr is the best freelancing platform because it offers the best rates. So, here are some of the highest-paid landscapes designer. Who are experts at their jobs and making hundreds of dollars.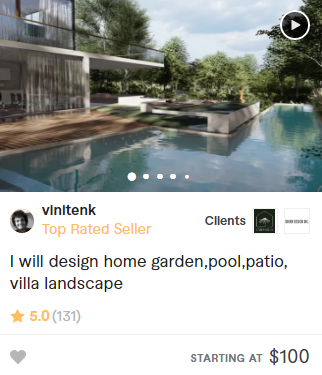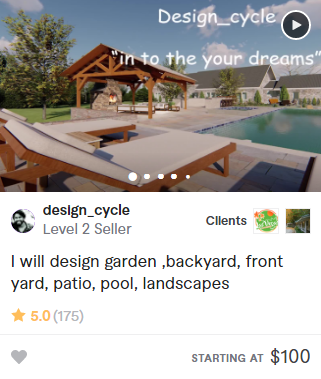 designstormorg designs gardens, backyards, patios, and terraces in 3d. For which he charges $80. But for designing a premium garden he charges $280. Where he provides unlimited revisions with 6 days delivery time.
vinitenk charges $100 for designing home garden, pool, patio from 0-500 sq.ft. But for designing park, commercial area 1500-3000 sq.ft he charges $350. Where he provides you 6 free revisions. And 14 days delivery time.
design_cycle is a professional landscape designer. He is a level 2 seller for designing 1000 square feet he charges $100. Whereas for designing a 5000 square feet large scale landscape design he charges $390.
Final Thoughts
If you want to enjoy while making money. Then you can become a landscape designer. Because you will visit different places and different people. Where you will learn a lot and grow. Also, it will take you only 3 to 5 days to design a good landscape. For which you can charge more then $100 easily. When you will become a professional you can easily make more then $15,000 per month. It is a pretty good field in terms of earning money.