Catalogs are the most common form of advertisement. If people mostly use Catalog Design for the advertisement of their products and services. Then it means that they are very effective. It was tough to design a catalog before. But it's not a Big Deal to design Catalogs these days. You can easily Design them and if you can't we will teach you in this article. But do you want to know how you can make money by working as a Catalog Designer? Then you are in the right place, read the article till the end and I will let you know everything about Catalog Designs.
What is Catalog Design?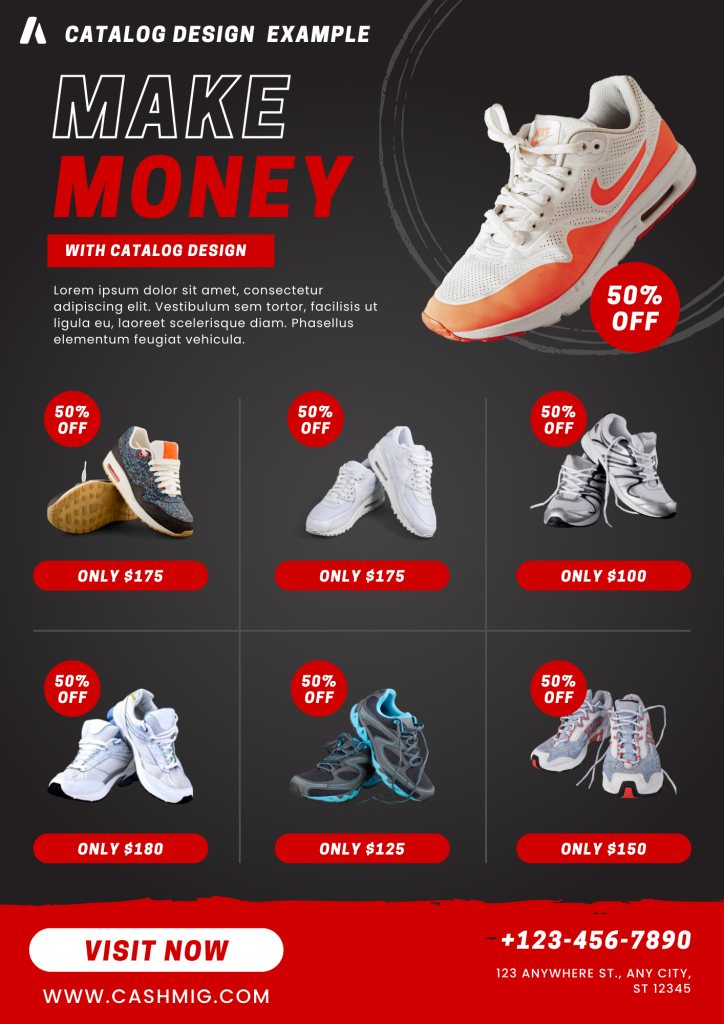 Suppose that you are running a company or you have a product that you want to sell.
How you are going to sell your product? If you don't have anything about your product that you can show to your potential buyers.
So, for that reason we design Catalogs. These Catalogs contain all the information about our product or service that we are going to provide.
This means that if someone wants to buy over product or service. Then we will give him our Catalog. Which will help him understand what product we are selling, its price, quality, and much more.
How to Design Catalog With Canva?
Now it's time to teach you how you can design Catalogs. So, that you can learn and after that, you can start making money. First of all, don't worry about anything it's a very easy process that we are going to share with you. Simply with the help of templates you can design Professional Look catalogs. So, follow these steps carefully.
Click On the Canva Link and Sign-Up for a Free account.
Then head over to the search option and search for the Catalog Designs.
Now, you will see a variety of templates for Catalogs.
You can choose any of them simply keep scrolling the page until you find the best fit.
After finding the best fit for your Catalog. Simply click on the customize button.
Now, you will be in the customization section. Where you can customize everything in a few clicks.
After completing the customization look at the final design.
If you think the design is Great. Then click on the share button and you can export your Catalog into any format or quality you want.
Catalog Designed With Canva
Here are a few Catalogs which I designed using Canva. So, it took me only a minute or so to design both of these catalogs. You can see for yourself how cool they are and their professional look.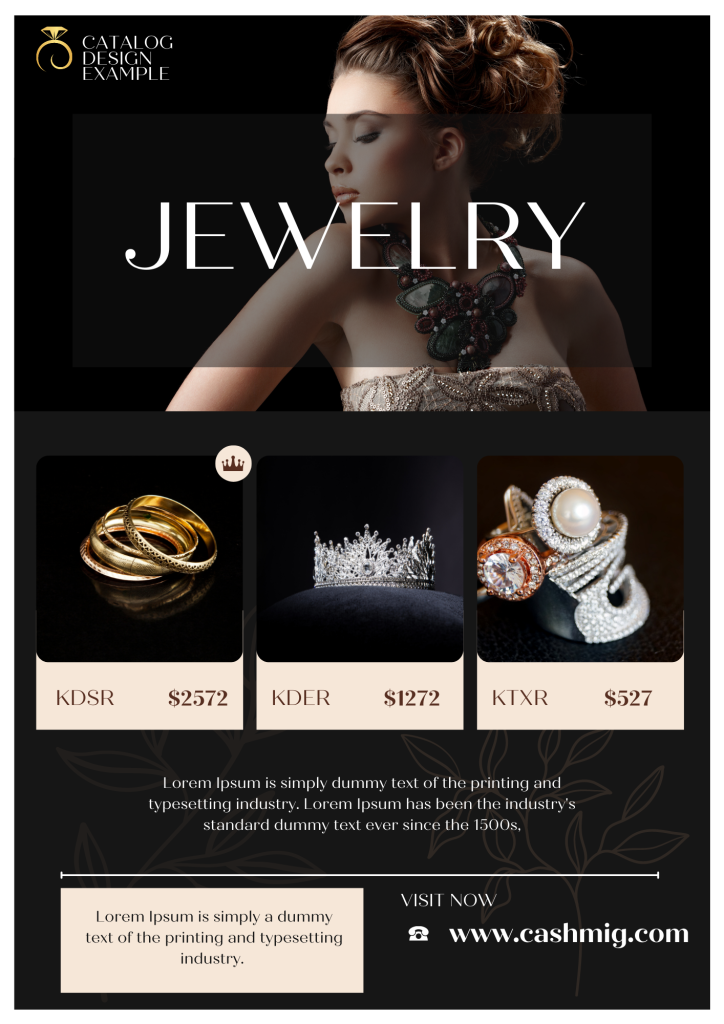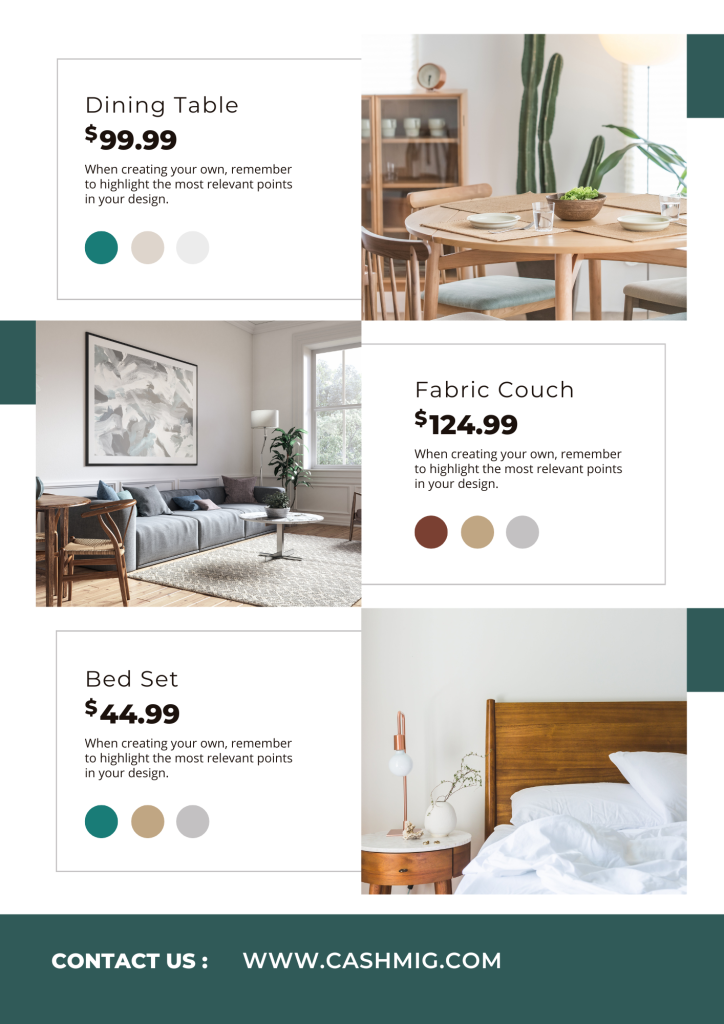 Tips to Design Good Catalog
If you want to design good Catalogs then you will have to be creative. Now creativity will not come to you in a day. It will require a lot of hardwood, patience, and consistency. So, if you want to design good Catalogs then you will need a lot of creativity. But, here are a few tips for you that you can focus on. And it will help you in boosting your creativity a lot.
Real Life Desires
The first thing to focus on while designing catalogs is the Real Life Desires.
People Buy What they Desire For

People buy only those things for which they dream, crave, and the product which will provide benefit.
So, make sure that you create a product that people crave.
Focus On Your Audience
The second main step is to focus on the audience we are going to target. So, as you know we will be designing a Catalog for a company. Now, if it's a Male shoe brand then you need to specifically target Men. And those who use shoes for gym and running. Because when you will focus on your audience you can generate more leads quickly.
Design and Quality
It's all about design so make sure to use images related to your Niche. Or related to the product you are going to create a Catalog. The next big step is to make sure that the Catalog you designed is of high quality. And when people are going to get a printout of your Catalog it impresses them. Here are three key things to make a better design and Quality.
Fonts
Images
Quality
Background
Uniqueness and Creativity
How Much Money Can You Make by Catalog Design?
Let's come to the main point. If you read everything that we discussed above. Then it means that now you are a professional Catalog Designer. Who is ready to work with different clients and make money. So, now let's discuss in detail how much money can you make by designing Catalogs.
So, If you will work as a part-time freelancer. Then you can make money depending on how many pages you design.
| | |
| --- | --- |
| Price | Catalog Pages |
| $30 | 1 Page Catalog |
| $50 | Two-Page Catalog |
| $100 | 3 to Four Catalog |
| $500 | 5 to 10 Page Catalog |
| $1000 | 10 to 15 Page Catalog |
| $2000 | 20 to 40 Page Catalog |
Best Ways to Make Money as a Catalog Designer
If you want to make money by working only a few hours. Then there are some of the best ways to do so.
Become a Freelancer
Firstly, you can become a freelancer. And the amount you can earn as a freelancer can see above. Also, in the meantime, if you join a platform that offers high-quality clients then you can make even more.
Fiverr is the Best Platform to Start your Career as a Freelancer. Because it admires the change and the work of the beginners. So, below you will find the link to Join Fiverr. Click on it and Join. Because it can help you make a lot of money in an easy way.
Some Highest Paid Catalog Designers
So, here is the list of some of the Highest Paid Catalog Designers. Who are also working on Fiverr.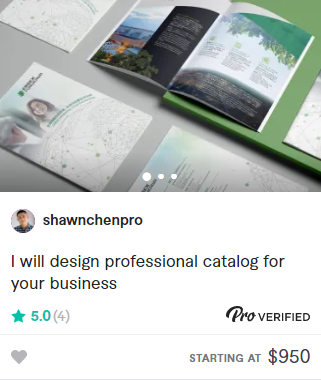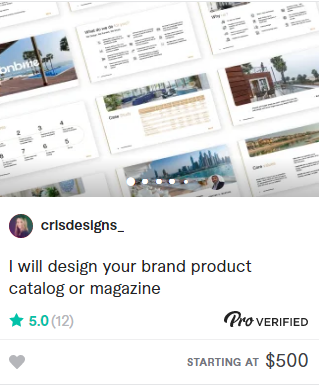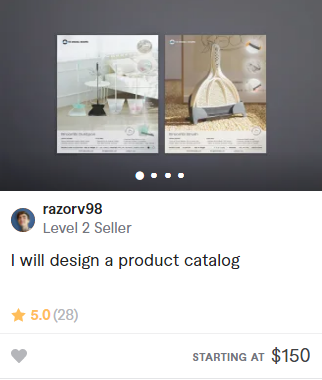 Shawnchenpro charges $950 for designing 12 pages catalogs. Furthermore, for designing 40 pages he charges $2,150.
crisdesigns_ designs catalogs for brands or products. Therefore, charges $500 for simple 4 pages.
razorv98 charges $150 for a 10-page catalog. Also, he can design 30 pages catalog for which he charges $400.
Wrapping Up
Basically, we discussed a lot about the Catalogs Design. If you are a beginner then you can learn a lot from today's article. Because there is almost everything that can help you. Become a good Catalog designer. And if you can become a good catalog designer then who can stop you from making money. So, follow today's guide carefully if you want to make money as a catalog designer.