Who doesn't likes to look good in images? But as you know when we click an image. It requires a lot of editing. We need to adjust the brightness, contrast, colors, and more. So, that the picture we clicked looks good. We can edit pictures using different tools. But when it comes to professional work like brand photoshoots, product advertisements, models shoot, and more. Then at that place, we need a graphic designer who can edit over images. If you can edit a good image then you are at the right place.
What is Image Editing?
Image editing is a very unique skill. When we capture something using the camera. Then that is the raw photo. It needs a lot of adjustments if you want your pictures to look better. Like if we click over our own picture. Then we want to look beautiful these days. But in over Raw pictures, we can not look good. So, we edit with different software to adjust skin colors, brightness, contrast, and saturation. And tons of other things. So, that we can look good. The whole process is image editing.
You don't need a good camera to look good. All you need to do is just learn to edit.
How To Edit Your Image?
If you don't know how you can edit your images. Then there are a few tips for you to follow. And you can make your dull pictures look good. Just in a few seconds.
First of all, you need to import the image you want to edit into lightroom. Simply, drag the picture you want to edit and drop it into Lightroom.
Now, increase brightness, contrast, vibrance, whites, and blacks. Increase them depending on your picture. If the amount is high then simply decrease them. Keep doing this until the basic color tons are correct.
After that, you go to the color grid feature. And can adjust the red, green, and blue lights in your pictures.
If you want to increase color saturation one by one then go to the colors option. And you will blue, red, yellow, blue, green, and tons of other colors. Adjust the vibrance saturation according to the picture.
Lastly, in the final step, you can adjust clarity, sharpness, and more.
After that simply click on the export button and you will have a good-looking image.
List of Best Image Editing Software
If you want to edit a good image you need to choose an editing software. Which will help you edit your image. There are various software available for editing images. But Adobe Lightroom is one of the best software to edit your images. So, below are a few steps that will help you edit your images quickly.
Adobe Photoshop.
Adobe Lightroom.
Adobe Illustrator.
Canva.
Figma.
How Much Can You Make By Editing Images?
As you know we are living in the age of social media. Where everyone wants to look good. Above all, there are a lot of photoshoots. Which requires some professional editors to edit their raw pictures. So, due to the high demand for this skill, you can easily make $50 for editing a simple image. And if you are working on bigger projects then you can earn a lot more.
Make Money from Signage Design | Make Money Online Through Web Banners
Best Ways to Make Money By Editing Images
You can earn money by editing images easily. But there are so many different ways to mean through editing images. So, we will discuss all of them one by one. With the earning potential, pros, cons, and everything. After that, you can select the one which you like the most.
Freelance Image Editor
You can work as a freelance image editor. Simply, Join Fiverr from the below link. And you will be able to signup quickly on Fiverr. After that, you can start providing your services as a freelance image editor. different clients will come to you and you will have to edit their images. And for editing a single picture you can easily charge from $30 to $150 easily.
Here is a list of some of the highest-paid freelancers who are working on Fiverr as freelance image editors.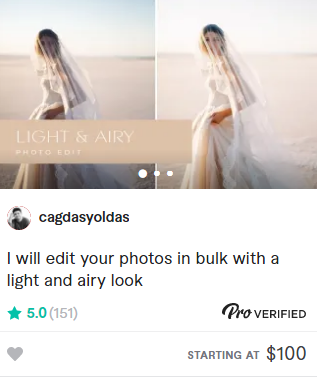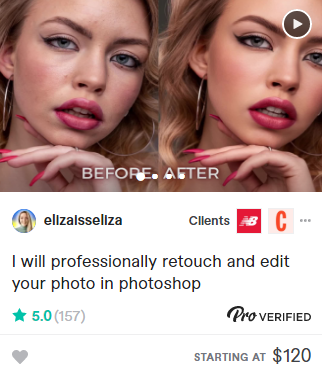 cagdasyoldas edits photos in bulk. And he can give your photos light and airy look easily. He is a pro-verified seller on Fiverr. Due to the reason that he is highly experienced. He is making $100 for editing only a few pictures. If you want him to edit pictures in Bulk he can also do so.
elizaisseliza is a photoshop expert. She can give a smooth retouch to your dull pictures. And can easily make it look fantastic just by her editing. She provided her services to 157 clients with 5-star ratings. And she charges $120 for editing a single picture. Or just giving a retouch.
smartproimaging is a highly skilled person in terms of image editing. And he is a pro-verified seller charging $125 for editing just a single image. If you will go for his premium plan he can charge you even more. His editing is perfect and very advance. Due to his color accuracy.
Brands Photoshoot
There are a lot of brands that shoot to promote their products. And they need their product to stand out from others. So, for this reason, they need a professional image editor. Who can make their products look even better. You can simply work for them and earn more than $1000 monthly. Depending on your experience the amount can vary easily.
Models Photoshoots
You can also make money by editing the pictures of models. There are a lot of models on social media platforms. They want to look good so they need a highly skilled image editor. So, if you can edit pictures so well that you can make a model look even better. Then you can visit different places while working with the models and at the same time. You can earn a lot of money too.
Final Thoughts
These days everyone wants to look good in their images. But not everyone knows how to look good. So, they hire an image editor who can edit their pictures. And make them look even better. You will edit their picture and they will pay you. It is a very easy skill that you can learn easily only in a few days. After that, you can start making money.