Signage Design is the art of displaying ads. We use images, and text to write a message. Then with the help of graphics, we can design signage. Which will have images and messages in the form of text. To advertise the business, company, person or product, and more. In every day-to-day life, we see billboards, social media ads, posters, and more. They all are signage designs and people are earning money through them. So, if you didn't know before how to create signage designs quickly and earn from them. Then today in this article we will teach you to do so.
What is Signage Design?
On daily basis, we see a lot of ads around us. Which contains Billboards, social media ads, posters, and more. So, all of them use visuals with a message. To advertise their company, products, etc. They are basically images with text. Which are use to represent a message. So, that it attracts, clients and people toward their business or product. Due to this they can generate a lot of leads and make money.
There are different types of Signage design which include.
Banners.
Billboards.
Posters.
Charts.
Sidewalk Signs.
Lastly, Social Media ads.
How to Make a Good Signage Design?
Basically, everyone can create a Signage Design it is no big deal. But creating a good signage design requires a lot of effort and hard work. Furthermore, we will share some tips with you which can save a lot of your time.
First thing is to decide and think about the Location. Then create a signage design according to that location. Because it depends the signage will be use indoors or outdoors.
Secondly, the colors must be very good they should attract the eye to look at them.
The most important thing Is the message. Use text which appears clearly on the signage. And are easy to read.
Quality matters a lot in everything. So the most important aspect of a good signage design is Quality. Make sure it's not blur and images and text are of High Quality.
The key thing to remember is your message and the background, images, characters, or whatever you are using. Must complement the text because it can make a good signage design.
Best Softwares for Designing Signage
There are not too many softwares that you can use for designing signage. But, we searched the complete internet and here are some of the best softwares. That we found online and you can use them to create beautiful signage designs.
CorelDRAW.
Adobe Illustrator.
Inkspace.
These are some of the best software that you can use for designing signage. Because there are tons of graphic design software. But they all can not make for creating signage design.
How Much Can You Make From Signage Design?
You might be wondering how much can you make online from signage designs. So, the answer is you can easily make $20 to $50. As a beginner in signage designs. But with time when your skill will get older, you can earn a lot more from signage designs.
Above all, it depends on the type of signage design you are creating. If it's a simple poster then the amount will be low. But if you are creating a Billboard then the amount will be higher than this. It can vary between $50 to $100. So, depending on the type of signage design you can earn money. Here are some of the best places to earn money as a signage designer.
Make Money Online Through Web Banners | Make Money Online With Email Design
Best Places to Earn Money as a Signage Designer
You can earn money from different sources by working as a signage designer. Here are some of the best places to make money by designing signage.
Work as a Freelancer
The first way to earn money from signage design is to work as a freelancer. So, you might be wondering which freelance platform is best for working as a freelancer. We will suggest you join Fiverr. Because it has a lot of opportunities for signage designers. And you can earn a lot of amount due to so many opportunities and the commission rate of Fiverr is also very low as compare to other platforms.
List of Some Highest Paid Freelancers Working as a Signage Designer On Fiverr
Here are some of the freelancers who are working on Fiverr and earning money through it.
ushan_creations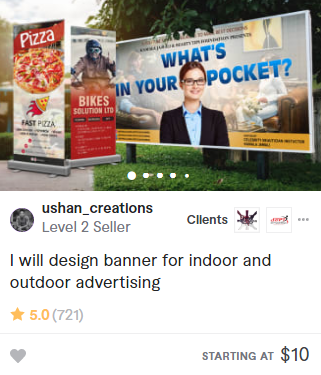 ushan_creations designs indoor and outdoor advertising. And is working as a signage designer. He can completely design any advertisement. Whether it is indoor or outdoor. And then the client can put it on billboards, signs, posters, and more. The amount he is charging for a single signage design is $10. He can also change the amount he charges depending upon the advertisement he is going to create.
fourslash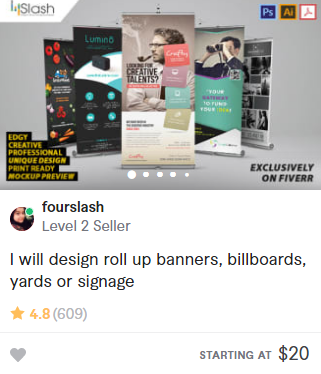 fourslash is a Level 2 Seller. And designs roll up, banners, billboards, yards or signage, and more. All of the services are starting at $20. He worked with 60 clients as a signage designer. Till today the ratings he got working on 609 projects is 4.8 Star. So, which means her clients are satisfied with her work.
bowechomedia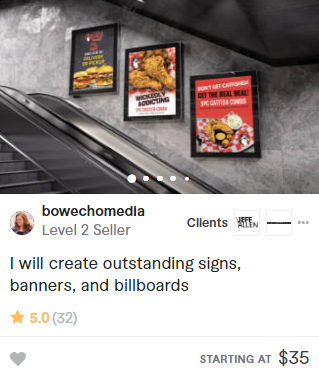 bowechomedia creates outstanding signs, banners, and billboards. Creating signs and banners is a really easy job for her. She can deliver the project in less than a day. Because she is very hardworking. And providing her services at $35. The signs and billboards she creates are outstanding.
graphicdawn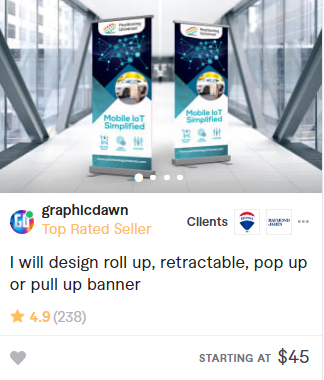 graphicdawn services are starting at $45. He can create and design roll-up, retractable, pop-up, or pull-up banners easily for his clients. And charges only $45 for providing his services. He creates very high-quality pull-up and pop-up banners. You can also see his gig on the left side. With that, he is a top-rated seller which means he is known for his work among his clients.
mamun73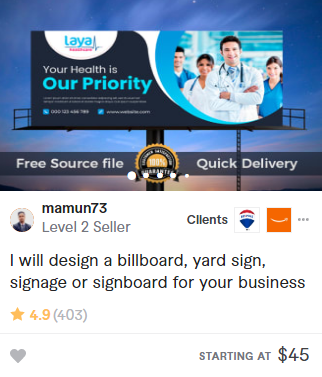 mamun73 designs billboards, yard signs, signage, or signage boards for your businesses. And he is a level 2 seller due to which he charges $45 for designing one signage board. No matter how tough the board is to design he can do it. And the quality he provides for signage designs, yard designs and more is just great.
Wrapping Up
Let's wrap up the article with the final words. So, we discussed a lot of things about. How you can make money by designing signage, signage boards, billboards, posters, and more. It is a pretty good skill in terms of earning money. Because you can easily learn this skill and can start making money. By creating billboard signs and selling them.