Web banners are mostly used in the digital world. The primary purpose behind web banners is for displaying ads or banner ads. You can easily create web banners for a client. Through which they will promote their business. They will put a link on that banner and use it to advertise their brand or company. So, which means that the number of users the company will get from displaying the banner. They depend on the banner design. If you can design good web banners. Then you can easily make some cash for yourself. And if you are new and don't know how to start this guide is for you.
What are Web Banners?
In simple terms, web banners are use for displaying ads on websites. Due to this people also know them by web ads, banner ads, and more. So, what are they basically we see a lot of ads then how are they different. The answer is basically they are web banners that display on different websites we visit. And when we click on the web banner they redirect us to a new website. Basically, which means that web banners are use to display ads embedded with a unique link. Which will redirect the user to the advertiser's website.
Almost every small or big organization. when they are trying to get the audience. Then need to display ads for which they want a custom web banner design. If the banner is simple and attracts the audience. This means they will want to know more about that particular banner. And when they will click on the banner the embedded link is clicked. And it will redirect them to the advertiser's website.
Earn Money by Designing Websites | Earn Money by Creating Game Art
How to Make a Web Banner?
If you read the above part you know what are web banners. And how much important they are for a company or a person. Who is trying to advertise their business or company. So, it all depends on the design of the banner. If you want to attract more audience by creating web banners. Then you can create banners through this method.
Don't worry it is a very simple method. You don't have to do any graphics designing or more. We are going to share with you the simplest method for creating web banners. Which is to use the custom templates. So, for that, you can use Canva, Figma, and other software. Depending on the software you are comfortable with. But the steps will be the same.
Visit Canva.com.
After going to can click on signup to create a new account.
Then search for web banners.
A lot of different web banner templates will appear.
Simply, select which you like the most.
After that click on customize and convert it according to yourself.
Then lastly click on the share button and download the banner easily.
How Much Can You By Designing Web Banners?
You can make really decent amount by designing web banners. Because it is very easy to create web banners. So, your earnings will depend on your creativity level. But as a beginner, you can easily make $30 to $50. There is no fixed amount but you can make a lot of money. Depending upon project to project.
If you don't how to earn by creating web banners. Then here is a quick guide for you to work as a freelancer web banners designer. On a very popular platform Fiverr.
List Of People Earning Money From Fiverr By Creating Web Banners
As you know for a beginner it is very difficult to choose which platform is best to work on. But when you are on CashMig you don't have to worry about anything. Because we will tell you all the pros and cons of working on Fiverr. And the complete list of different web banner creators. Who are working on Fiverr and earning money. If you love the amount they are making and want to sell you web banners.
The link to join Fiverr will be given below. So, simply click on it and Join Fiverr to start Earning Money.
kaankeysan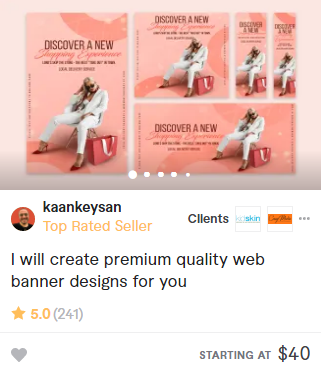 kaankeysan top a rated seller on Fiverr. Created more than 241 web designs for different clients. All the clients he got were through Fiverr. Also, he is starting his services from $40. And if he works on bigger projects. But he is easily making more than $100 per day from Fiverr. So, join Fiverr today from this Link and start making money.
aario_fp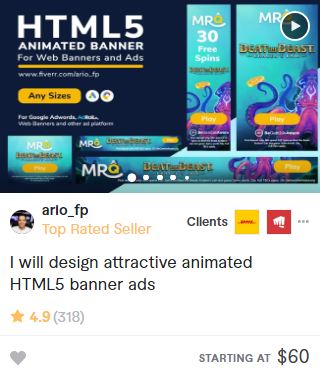 aario_fp is a top-rated seller. Working as a top-rated seller on Fiverr is not an easy job. The expectations of the clients become very high. If you are a top-rated seller. But Fiverr offers very good services and clients who are verified by his freelancers. Due to this, he got a chance to work on 318 projects till now. It all became possible through Fiverr.
yaeliroz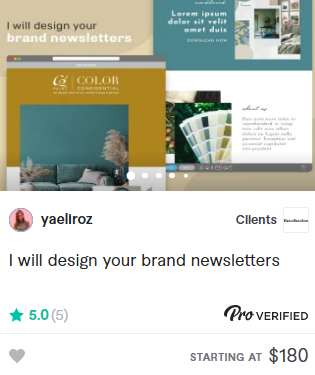 yaeliroz designs web banners and newsletters. He is a pro-verified seller 2 on Fiverr. Can you believe $180 for designing web banners? If you can not then let me tell you it is possible to earn. Fiverr is offering its clients the to earn as much as they want. Simply create your own gig for $180 by joining. And simply, start earning money quickly.
geniusgenius01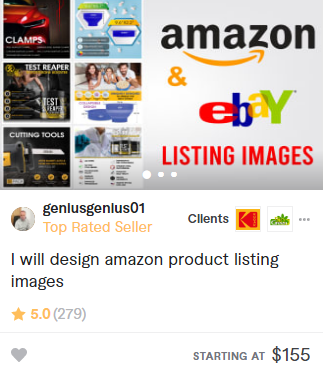 geniusgenius01 is earning $155 for each design. If you are wondering how she is making $155. He designed product listing images. And web banners too also he has a 5-star rating even after working on 279 projects. If you can design web banners like him. Then a lot of different earning opportunities are waiting for you.
holacopo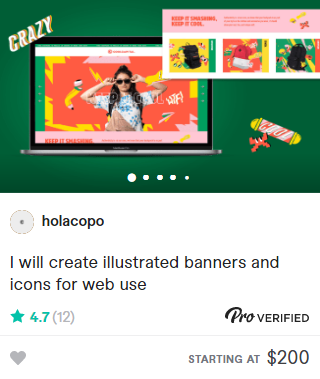 holacopo designs web banners and is providing his services on Fiverr. He is charging $200 for each web banner design. And he creates illustrated banners and icons. Which clients can use on their website. So, in simple words, he designs clean web banners. With a very attractive style.
Final Thoughts
Web banners are very easy to create. By using templates you can easily make very good web banners. And then simply create a Fiverr gig quickly from over link. After that, you can start making hundreds of dollars easily. By working as a freelance web banner designer. Earning potential is decent if you work as a freelancer on Fiverr. So, create your own from over link to quickly signup and start earning.