Making a new brand successful is not easy. It requires a lot of effort and consistency. When you are trying to create Brand Style Guides or Brand Guidelines. When a company wants to make its brand and wants it to be successful. They need a unique identity for their brand. What I mean by unique identity here is the way the company feels and looks. For example, Apple's logo of "Apple" and Netflix's logo of "red n" and more. Then they need to create a brand style guide. It's where you can earn money by selling brand-style guides. To make their brand successful. If you also want to learn more about the brand guidelines then this article is for you.
What are Brand Style Guides?
Brand style guides or Brand guidelines are the most important aspect behind every company's success. Every type of representation, image, voice, video, logo and so much more. What we see and feel about any brand identity. Is known as brand guidelines or brand style guides. Basically, this guide covers almost everything related to any brand. Like its color palette, the way the logo looks, font style, videos on the page, and more.
Importance of Brand Guidelines
Brand style guides or Brand guidelines are the most important part of making a brand successful. They are basically portraying the image of your Brand. For example, the logo of Apple has the most important role in making its brand successful. If the look and feel of your brand are good then you can attract a lot of people.
If you want to make your new business successful. Then you need to create a unique identity for your brand. Also, the identity must suit your brand the best. Here are some tips for you to create a successful brand style guide.
How to Create a Successful Brand Style Guide?
If you are working on a new brand. To create a brand style guide successful then you must follow these four steps.
Brand Knowledge and Brand Purpose
You should know your brand well. Why you created the brand, what your brand will do and so much more. So, the first step is to know your brand well then go for the second step.
Study your Competitors
The second step is to study all of your competitors and know everything about them. How they are making their brand successful and everything related to their brand style guides.
Look and Feel
A brand style guide is all about how your brand looks and feels. So focus on,
Logo: Focus on creating an attractive and simple logo.
Colors Palette: Choose colors that look attractive and suit your brand style.
Font Style: Fonts and Font styles must be unique and visible.
Presentation
The most important part of any successful brand style guide is the Presentation. How they represent their products, logos, images, fonts, colors, and everything. If you are good at presentation then you can become an expert in creating successful brand style guides.
You can also learn:
200$ Per Day by Designing Logo | Earn 25$ Per Referral
How to Earn Money by Brand Style Guides?
There are a lot of different ways to earn money from brand style guides. So, if you want to know more about the ways to earn money from brand guidelines keep reading. We are going to share with you some of the best ways to do so.
Freelancing
Freelancing is the best way to earn money by creating style guides. You can start from a very small amount which is $10 and can earn thousands of dollars. If you are consistent and expert at your job. It is not the most difficult job. But it requires a lot of hard work and brainstorming.
Creativity is the key thing to earning money by doing brand style guides.
Join Fiverr to sell your skill by clicking on the button:
List of Highest Paid Brand Style Guides Freelancers
So, there are a lot of people who are working as a freelancer and earning money. By creating brand style guides we will share a few freelancers with you. Who are earning money by providing their skills on freelance websites.
humstudio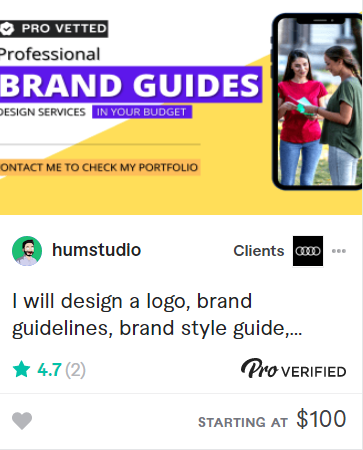 humstudio is a pro-verified seller on Fiverr. Providing his services such as logo designing and branding, brand guidelines, and brand style guides. He is starting at $100 for these services and charges $1200 in the premium plan. Where he provides the same services with few extra tweaks. So, the brand style guide is a highly demanded skill nowadays. You can earn the same figures too if you want.
Brand Launcher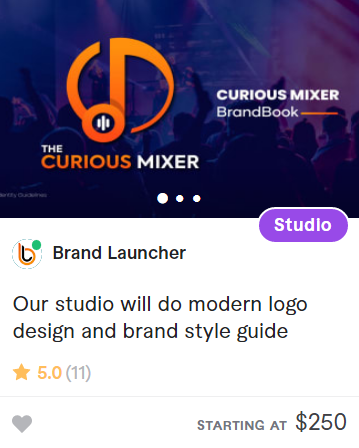 Brand Launcher basic plan starts at $250. And their premium plan is $500. They are earning $250 to $500 just by designing logos and doing brand style guides. The amount they are earning is just from a single freelance website and a single project. You can see the potential for earning by doing a brand style guide.
borydesign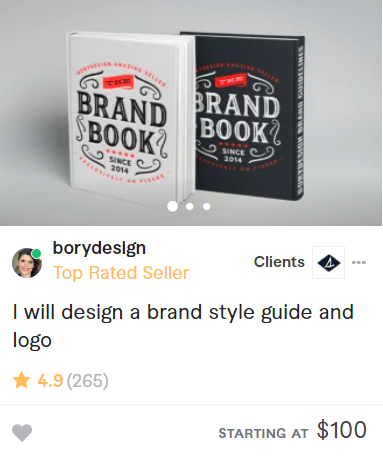 borydesign is also working as a freelance brand style guide and logo designer. Starting at $100 and charging up to $300 for some extra tweaks and changes. There are even a lot of other highly paid freelancers. Who are just beginners and earning even a lot more than this. It is one of the highest-paid jobs on any freelance website.
Sell Directly
Sell your services directly to clients. Through this method, you can easily make $50 for a very small project. You can find brands that are trying to find someone who is an expert at creating brand style guides. Then you can directly sell them your services through any social media platform. Or you can search for the newly registered domains and can message them directly. If they will be interested they will ping you.
Create your own Blog or Website
The third way is to create your own blog or website. It can be your portfolio website or you can make your own brand and work on it. But, creating your own brand requires a lot of investment. So, we will suggest the first method to create your portfolio website. Because people will come and look at your portfolio website. If they like your work then they can contact you.
The Bottom Line!
Brand Style Guides, Branding, or Brand Guidelines is a bit difficult job for beginners. Because you need to be consistent in this field to grow. And to achieve the consistency you need to work hard. But when you will put all of your efforts into the branding and the uniqueness of your brand. Then definitely you can make Thousands of Dollars just by sitting at your home.