Presentation Design involves designing all the aspects of a digital presentation. As we all know, digital presentations include photos, videos, animations, text, and more. We all love creating a presentation that stands out among others. But we can not create a good-looking presentation with the pre-built templates. So, we need custom templates to give a professional presentation. Whether it is in the office or for university. Here is a quick introduction to the presentation design. But do you know if we can create these professional-looking presentations? Then we can earn a lot of money if you want to make money by designing presentations. Then this article is for you must read it to the end.
What is Presentation Design?
We all know when it comes to giving a good presentation. The critical thing which can make over the presentation and attracts the audience. It is the design of the slides. We use PowerPoint, libra office, WPS office, and more when creating a presentation. And we can not do much with the pre-built templates. So, we need a custom presentation design. In that custom presentation design, pictures, videos, animations, unique fonts, and more are used. Which makes over presentation look even more attractive.
So, the process of creating a custom presentation. By using images, videos, animations, and high-quality backgrounds for slides. It is known as Presentation Design.
What Makes a Good Presentation Design?
Presentations are all about engaging the audience.
It's a very basic thing to cover if you want to make a good presentation. And that is using interesting pictures, animations, and short videos. Above all, don't make a lengthy presentation. Keep it short and sweet. Also, don't forget about the audience; make your presentation according to your audience's needs. Basically, it is very simple to create a good presentation if your main focus is on engaging the audience.
How to Design a Good Presentation?
If you want to create a good presentation, here are a few things to keep in mind.
Firstly, Less is More. Don't make a lengthy presentation because your audience will get bored. So, keep it short and sweet.
Use pictures related to the topic of your presentation because it can build interest in the audience.
Fonts must be clear and unique. No matter how far the audience is, the texts must be visible clearly.
If you further want to make customizations, then you can use videos and audio in the presentation.
Make Money From Infographic Design | Make Money by Designing Apps
How Much Money Can You Make With Presentation Design?
The average amount people are making starts from $25 to $500. By designing a single presentation. The amount we shared with you is the amount that freelancers are making. But if you are going to work for an organization. Then your monthly salary will be a minimum of $8,000 without experience.
It means you can make a pretty good amount for designing custom presentations. There are many different ways to earn money as a presentation designer. We are now going to share with you each of them one by one.
Become a Freelancer
If you want to work as a presentation designer. Then we suggest you first work as a freelancer. Because you will get a chance to work with different clients, and you can learn a lot by working with these clients. Once you have the experience, you can demand any amount you want. Whether it will be a freelancing platform or a physical business.
Also, without any experience working as a freelance presentation designer. You can easily earn $25 to $50 as a beginner for designing presentations. But if you are a pro, you can earn between $100 and $300. There are many freelancers who are working since 2016 as presentation designers. So, they charge more than $700 just for designing 30 slides
Best Freelance Platform to Work as a Freelance Presentation Designer
There are different platforms where you can work as a freelancer. But if you are wondering which platform will be best for you. Then we suggest you create a profile on Fiverr. You can quickly create a Fiverr Gig by Joining Fiverr from the Below Link. Fiverr offers very low commission rates and high-quality clients.
List of Freelancers Working as a Presentation Designers on Fiverr
Here are some of the highest-paid freelancers. Who are selling their skills on Fiverr and making money.
beamaze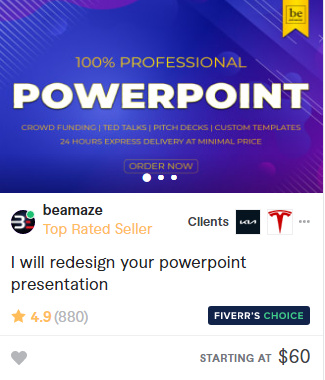 beamaze creates charming presentations. And he can also redesign your presentation too. He is from India and joined the freelancing platform in 2016. In these 6 years, he got 880 clients. In his basic plan, he charges $60.
Furthermore, he will design 50 slides that will be editable and are of very high quality. For that, he will charge $225. Also, he offers three free revisions in his premium plan to his clients.
POINTONEFOUR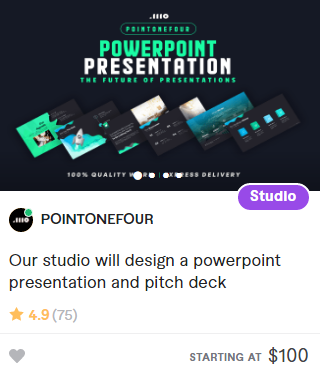 A complete studio POINTONEFOUR works as a freelancer. They can design very high-quality presentations. For 10 Slides Powerpoint deck, they charge $100. They also offer unlimited revisions. And their delivery time is a maximum of three days
For creating a 30 Slides PowerPoint deck they charge $300. With a delivery time of 5 days.
sarahjeanwood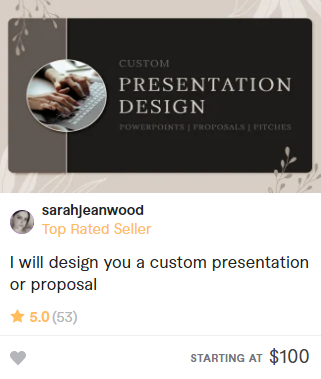 sarahjeanwood is a top-rated seller. Also, her ratings are very high too. Because she designs very powerful custom slides. She can also design proposals and pitches among presentations.
She charges $100 for creating a simple 5-page slide. With three revisions and 2 days' delivery time. And for designing 11 to 15 slides she charges $200 with a delivery time of 5 days. In her premium plan, she also provides three revisions.
adamazurek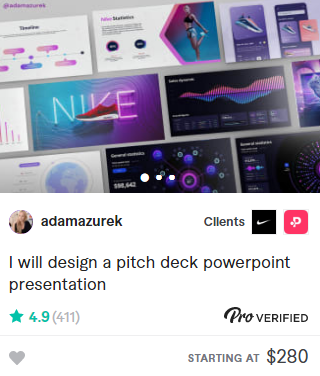 adamazurek is a pro-verified seller. She has done 411 projects with a 4.9 Star rating.
For designing a 10-page presentation she charges $280. In which she offers unlimited revisions. And a delivery time of a maximum of 5 days. You will be amazed to hear for designing 30 slides she charges $700. While the delivery time extends to 10 days. She provides slides in PPT and PDF formats.
Conclusion
Designing presentations is the most effortless job to make money. You can earn more than $500 just by designing 30 slides. So, if you are thinking about making money. Without learning any extra skills. You will find tons of templates online that you can redesign easily and earn money. You will find everything related to making money by designing presentations in the above section.