There are a lot of people who want to promote their company, product, and more. And these days, there is no other medium that is better for promoting products than social media. So, social media design is a practice for creating good social media posts. In social media design, you design posts for different social media platforms. Like, Facebook, Instagram, TikTok, and more. If you have a good reach on social media and you can design a post. Then a lot of earning opportunities are waiting for you. Even if you don't have the reach and also don't know how to design. You are at the right place you will learn everything about how to design social media posts today.
What is Social Media Design?
Social Media Design is all about creating posts for social media. But they are not just normal posts. The graphics designer who is an expert at designing. He specifically designs posts for social media. If you want to promote some company or product. Then you will create a social media design and post it. But, if a company wants you to design them a social media post. You will give design them an attractive-looking post and send them. For which you will get paid and the company will post that post on their social media platforms. And they will get leads from the post your design.
How to Design a Social Media Post?
If you don't know how to design a social media post. Then this portion is for you. We will teach you a very simple method for designing social media posts. And that method is by using Canva-free templates.
Goto Canva.com.
Search for Social Media Post.
Tons of different social media post templates will appear.
So, select from one of them. Depending on which you like the most.
After that edit, it according to your need.
Do Final Touches so that your design is flawless.
Simply, click on the share button and chose the size.
After that click on the download button.
Best Softwares to Design Social Media Posts Using Templates
Designing social media posts with templates is so easy and quick. Just in a few minutes, you can easily create social media posts. And share it with your client and start earning money. So, here is the list of some best software to design social media posts by using templates.
Canva.
Adobe Spark.
Visme.
Design Wizard.
Easil.
Lastly, Snappa.
How Much Can You Make By Designing Social Media Posts?
You might be wondering to know that if it is that easy job. How much can I earn then by creating social media posts? So, the answer is you can easily make more than $10 for each social media post. If you are a beginner. And if you already have expertise in graphic design then you can easily make $50. Basically, the amount we shared with you is for a single post. So, if you can design multiple posts in a day. Then you can double the amount.
The most important factor that can affect your earnings is the platform. Most people when start working online. They don't know which platform is best for them. Above all, most people work as a freelancer. And they get confused because there are so many different freelancing platforms. But you are on CahMig and we are always providing the best-earning methods. So, if you want to work as a freelancer in the beginning. Then you can start with Fiverr by joining from the link given below. The below link will help you quickly signup on Fiverr.
List Of Social Media Designers Earning Money From Fiverr
If you still don't believe that Fiverr is the best platform. Then here is the list of top social media designers. They have experience and good skills. And they are working on Fiverr. Because there are tons of clients on Fiverr and the commission is very low. Some of them are making hundreds of dollars. And some of them are making thousands of dollars. Sounds nice, then you can also earn the same just follow over instructions given below.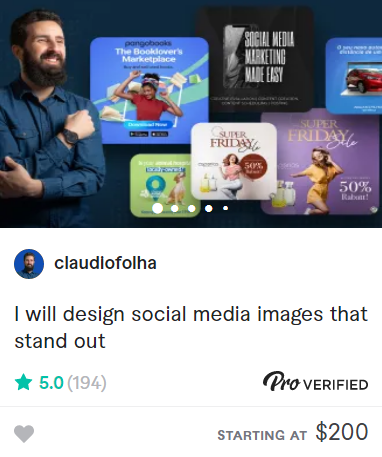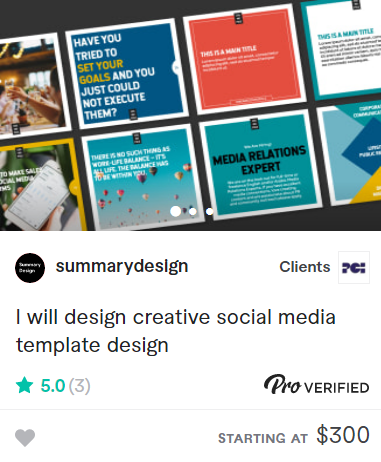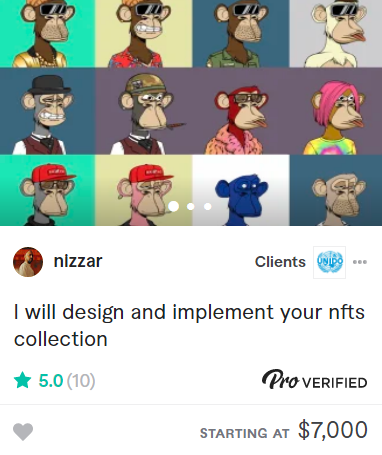 claudiofolha works on Fiverr. And his gig is above which you can see. He is starting at $200 for making social media designs. Also, he has worked with 194 clients till now and his rating is also very high. Because he knows how to create a social media post that stands out.
summarydesign is another pro-verified seller on Fiverr. And he is charging $300 for a creative social media template. Above we taught you how you can create social media templates easily in a few minutes. Just follow that guide and you can also make money from $100 to $300.
nizzar is working on Fiverr. In his gig picture which is given above. You can easily see starting at $7,000. Wow, isn't it great can you believe it? Getting 7000 Dollars for creating a social media post. He is also working to implement your NFTs collections.
Create Your Online Store
Creating your online store to sell social media design templates requires investment. If you don't have investment then you should this method is not for you. You can read the above article and start earning. But if you have investment and you want to create your own online store.
Then you should know that you can make a lot of money. So, first of all, you will have to purchase a domain. Design your website put all the store's functions and more. Once, you are done with the creation of your website. Simply, upload your create social media design templates. People will visit your store and download the templates. Once, they will download you can charge them. Through templates, subscriptions, google ads and so much more. There are so many different ways to earn from stores.
Final Words
Earning Money With Social Media Design is really easy. This article will help you earn by creating social media posts quickly. You can make more than $10 for designing simple social media posts. And by working on Fiverr you can earn thousands. By creating social media posts with templates. There are tons of other methods given in this article to earn from. Hope so you will find them helpful.