You can design stunning business cards and stationery. But don't know where to sell your skills and earn money. This article will give you all the information you need to earn money. By designing business cards and stationery. We will also share with you the easiest ways to make your business cards. People running their organizations or businesses need business cards. To increase sales and generate new leads for their organization. Discuss a few critical points required to earn money by designing business cards.
What is Stationery Design?
Stationery Design refers to a process for designing business cards. Basically, it is a method a designer or artist uses. For creating beautiful business cards, and greeting cards are known as stationery design.
How to Design Business Cards & Stationery?
You can design your business cards easily by following these simple steps
Firstly find a template that suits your business style the most.
Now, the second step is to basically find the best fonts for typography.
Decide the shapes and sizes of your business card and stationery.
Add extra images that you want to put, in your company logo.
Organize all the information on your finalized shape.
Give final touches that will show your specialization.
Lastly, export your business card and stationery of high quality.
Tips to Create Stunning and Selling Business Cards & Stationery:-
Here are a few key things to remember before you start designing business cards. To create beautiful business cards without doing so many efforts follow these steps.
Creativity is the Key
You need a lot of creativity if you are going to design business cards. If you are creative and your imagination is good. Then you can easily design beautiful business cards.
Focus on Design
Make sure that the card is clean and there are not too many things happening. Focus on designing a beautiful and clean business card. Because if your first impression is bad. If someone can not read text clearly on your card then it is no good.
Use High-Quality Papers
Make sure that the paper you are going to use to print your cards is of high quality. If the quality of the paper is bad then it will put a bad impression. And your clients will not be satisfied.
Coloring Sense
Your color sense must be very good. Make sure that the colors you choose for a card are perfect. Depending on the business style and logo. If you will put white text on a white page then it makes no sense. So, make sure to choose the best colors.
Size
Lastly, make sure that the size of your card is normal. Not too small or not so large. It must be handy and comfortable while holding.
Earn Money by Designing Business Cards & Stationery:-
Designing business cards and stationery is the most effortless way to earn money. You can make hundreds and thousands of dollars by designing business cards. But you need to know the best platforms to earn more. So, for that reason, we are sharing with you some of the top sellers who are currently working on Fiverr. For you so that you can get an idea that why Fiverr is the best platform to earn money.
Why You Should Choose Fiverr?
Choosing Fiverr for selling your business cards & stationery is a wise decision. Because Fiverr has the most competitive rates with the lowest commission possible. And it has a lot of clients who want you to design their business cards. On a daily basis, Fiverr generates millions of hits. Furthermore, you should be aware that competition is fierce, but you can make your gig stand out to gain clients.
You can get inspiration from the list of the highest-paid Fiverr experts. Who are selling their designed business cards on Fiverr. So, we highly recommend that you choose Fiverr for earning.
List of Freelancers Earning from Fiverr by Designing Business Cards & Stationery:-
Here are some of the top sellers on Fiverr. Who are designing business cards and earning money in hundreds of dollars. So, if you also want to make some cash then join Fiverr.
miditacia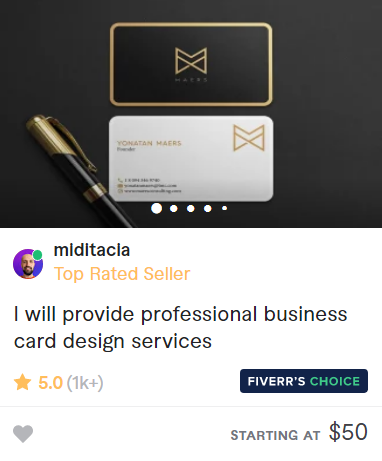 miditacia is a professional business card designer at Fiverr. Who is earning $50 in his basic plan. And he is earning $125 in his premium plan. All he does is he creates premium quality business cards for his customers. And he is making hundreds of dollars. He has worked on tons of different projects.
nabi80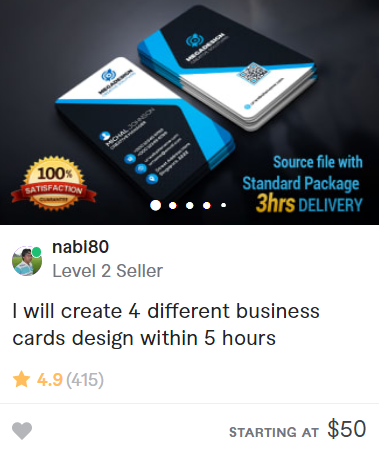 nabi80 is a level 2 seller on Fiverr. And he is making $50 per project. For bigger projects, he charges more. So, the services he is providing on Fiverr are simple. Just by designing business cards. He creates 4 different business cards in 5 hours. It is all that he does and he is making $50 for every hour.
mht177
If you want to become a professional. Then you can take inspiration from mht177. By Joining Fiverr from the given link below. And then by visiting his profile. Because he has completed 2,208 projects on Fiverr. With 4.9 Star ratings. Above all, he charges $50 for each project. And he can design a card in an hour. So, think about the money he is making. You can also make the same amount by learning this skill.
sunandamondal07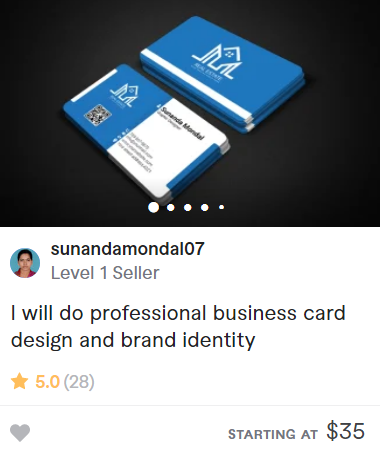 sunandamondal07 is a big inspiration. If you are a beginner she joined in April 2022. And she has worked on 28 projects in three months. She is charging $70 for her premium plan. If you can also design beautiful cards then you can visit her profile and see her gig. And then you can also earn as she is earning.
Conclusion
Designing Business Cards & Stationery is a highly paid skill. If you don't know how to design then you can learn from this article. And if you want to know the best places to sell your skills. Then you will also get help for that too in this article. If you read the complete article then you can easily make $100 per day. Just by designing business cards and stationery.