Apps can help you make a lot of money. There are more than 3.8 Million apps only on the play store. Different apps at the end of 2021 were downloaded by more than 200 Billion people. Suppose there are more than 200 billion users. Then they need new and updated apps to use. Because people get bore of using one app. They consistently need new designs and apps for their entertainment. So, if you can design apps then. There is a lot of money that you can earn by designing apps. Suppose you don't know how to design and want to earn money by creating apps. Then you will surely find this guide helpful.
What is App Design?
App design is the combination of two things UI and UX.
UI ( User Interface): It is all about the look and feel of the app.
UX (User Experience): It is all about the working and functionality of the app.
Basically, app design focuses on the look and feel of the app. How your app will actually look its design basically. And then you have to make sure that the app design you created works. Because if it is not functioning properly then it is of no use. If you want to create a beautiful app. Which works and functions properly. Below are a few steps which you will find helpful.
How to Design an App?
First, you need to decide the main part. Which are you want to be a UI designer or UX designer. We told you the main difference between both of these. But, if you didn't get it you can do your own research. Once you decided. The second step is to come up with an idea of what type of app you want to create and so much more. Then the third step is to research the market and see what your competitors are doing and how they are doing it.
Now, in the fourth step right down the features, your app will have. Furthermore, in the fifth step finalize everything by putting everything together. And then lastly you can use one of these tools to design the UI and UX of any app.
Best UI Design Tools
In UI you have to design a good-looking app. Where you need different fonts, colors, and more. With these tools, you can design apps easily. Because all of the tools required to design the UI are available in these softwares. Some of these softwares are very easy to use. A lot of you use photoshop for editing their photos. So, if you have used photoshop before then you can simply create an app design with a few clicks. Most of the apps also provide you with templates that you can select. And then further customize them to create a good-looking website design in a few minutes.
Adobe Photoshop.
Adobe Illustrator.
Figma.
InVision. 
Sketch. 
Best UX Design Tools
UX design is a bit more difficult than UI. Because UI focuses on the look and the feel of the app. But UX focuses on how the app will respond to the functions. It can affect the working and functionality of the app design. That's the main reason why it is difficult. but with the help of these softwares. You can make it a lot easier.
Sketch.
BuildFire.
Adobe Experience Design.
OmniGraffle.
Balsamiq.
Make Money Online by Designing Icons | Make Money by UX Design
How to Make Money By App Design?
We discussed a lot of things about the app designs. What is an app design and how you can create your own apps? Now, it's time to level up the game. By share with you the best ways to make money by app design. So, if you learned how to design apps then follow these next steps to earn money.
How much can you make by designing apps?
If you are wondering how much money can you make by designing apps. Then if you design a single app for a client you can make between 50$ to $100 as a beginner. The amount can vary depending upon the platform you are using to sell your services.
Best Ways to Make Money by App Design
You can make a lot of money by designing apps. But it depends on what type of platform you are using. If you are using a platform whose commission is high. Then even if you work on a big project you will get only 50 to 60% of your actual amount. Which demotivates and you stop working. But today we are going to share with you the best ways to make money by app design.
Work as a Freelancer
You can work as a freelancer on Fiverr. Create your Gig on Fiverr by joining from the link below. And after that, a lot of clients will come to you. Design apps for them and charge the amount you want to. If you work on Fiverr. Then you can easily make above $100 through each project. So, we strongly suggest that you must choose Fiverr to provide your services as an app designer.
Still in doubt to go with Fiverr. Then here are some people who are working on Fiverr. And they are making hundreds of dollars.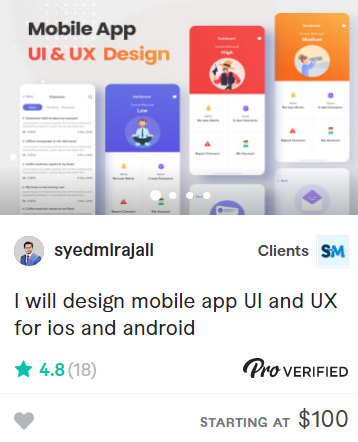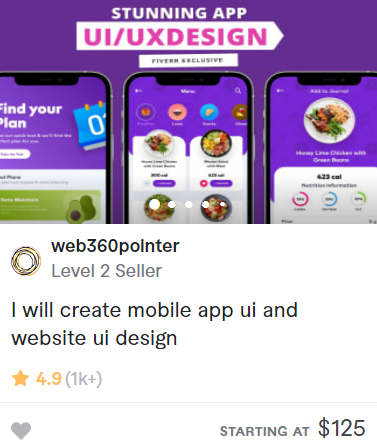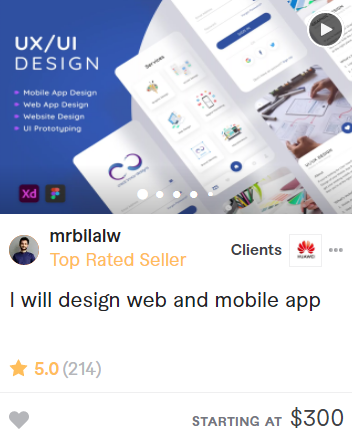 syedmirajali is a designer who can design the UI and UX of any app and makes $100 for designing each app.
web360pointer only designs the app UI. And is a level 2 seller. And is starting at $125.
mrbilalw can design web and mobile apps. And is the top-rated seller on Fiverr. Starting his services at $300.
Design Your Own App
You can design your own app and launch it. At first, it will require investment. But once you will create and launch the app. There are so many different ways to make money through them. You can make more than $1000 to $10,000 easily. On the monthly basis depending on the niche and the traffic your app Is getting.
Here is the list of different ways to earn through designing your own app.
Paid apps
Subscription
In-app purchases
App advertising
Affiliate marketing
Final Words
There are so many different ways to earn money. All of them are available on over website CashMig. Today we added one more which is App Design. You can check over the website and you will find everything related to earning. But let's come to the main point App Design. You will find everything related to app design in this article. If you will read everything carefully. Then you can easily earn through b creating the App Design.