On daily basis, we send and receive tons of Emails. And Emails are mostly used in different organizations. But none of them is specifically customized for their business. So, there are a lot of people and companies who send tons of emails. And they want to customize their emails. So, that when they send a mail to someone they show some interest in it and read. If they have a very good email design. Then there is a great chance that people will visit their website or business. And they will be able to generate their leads. Due to this reason, they will pay you and the amount is pretty decent.
What is Email Design
From the name you can guess what Email Design means. In simple words creating and designing a custom template. With a specific purpose of using it for sending and receiving emails. So, as you know we use different mailboxes like Gmail, Outlook, and tons of others.
But none of them let us customize the emails we are sending in a way that suits the business. For this reason, we need to customize over email design. So that it is according to our business. If you don't know how to design emails then don't worry we are also going to teach you to design.
How to Design Emails
Don't hesitate if you don't know how to design emails. Designing emails is a very easy skill to learn. We are going to share with you a very simple method for designing emails. If you are a beginner or if you are an expert and using tools like photoshop. To design emails then photoshop is a waste of time. Because you need to give photoshop a lot of time. Even if you want to create a simple email design.
So, you can try using Canva, and Figma. Tools like these are available online simply one click signup and you will be good to go. Here is the complete process to design emails.
Goto Canva or Figma.com.
Click on the search button and search for Email Design.
Once you will hit the search button you will see tons of different templates.
Simply, select the one which you like the most. Or, you think it suits your business best.
After that, if you want to further customize it simply click on customize.
Customize it according to yourself.
Lastly, click on the share button and the template will be downloaded.
Best Softwares For Designing Emails
Here are some of the top software. That you can use easily design the best emails with the help of templates. You can simply signup on one of these platforms with a click. And some of them are paid so you will have to see which one suits your style the most.
Canva.
Figma.
Postcards.
Mailchimp.
Stripo.
Chamaileon.
How Much Money Can You Make With Email Design
You might be wondering about the amount you can earn by designing emails. As you know that there are a lot of big companies who can offer you hundreds of dollars. If you can give them a custom email design that is very creative. But with that, there are tons of small companies and startups too. Who can not offer you a lot of money in the beginning. So, the amount you will earn will depend on the clients you are working with.
But the average amount you can earn through each email design. Can vary from $50 to $100 for a beginner. And if you want to work as a freelancer. Then that is also the correct path too. But there are different freelance platforms so don't get confused in the beginning. And join Fiverr from the link below and start earning money.
Earn Money by Creating Game Art | Earn Money by Brand Style Guides
Work as a Freelancer On Fiverr
If you don't want to be dependent on anybody. Then choose Fiverr is the way for you. Because through this platform you can earn more than $50 for each email design separately. On Fiverr, you can work with different clients and learn new skills on daily basis. Also, you can find clients very fast if you will join Fiverr from the link below. If you will do some quality for those clients. Then they will keep giving you work on a daily basis. So, if you want to work as a freelance email designer. Then Fiverr is the way to go.
Here are some people who are working as email designers. And earn a lot of money by working on Fiverr.
ummehabiba93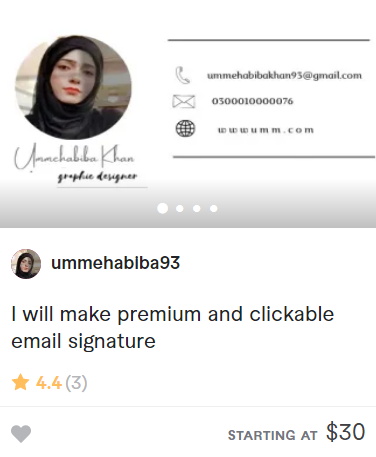 ummehabiba93 works on Fiverr. And is making $30 for every project. She creates premium and clickable email signatures on Fiverr. She is earning a very decent amount. Also, she just recently joined Fiverr and got three projects. So, which means that if you are a beginner then you can also make a lot of money too.
mallcoder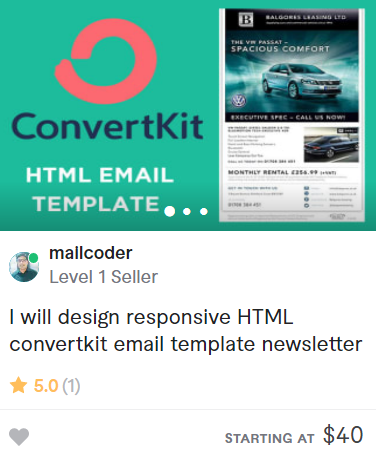 mallcoder designs responsive email templates. And is a professional at his job. Through his professional, he is making $40 for each template. He can also design responsive HTML, convertkit, email templates, and newsletters too. Which are similar to designing web banners.
flash_tech01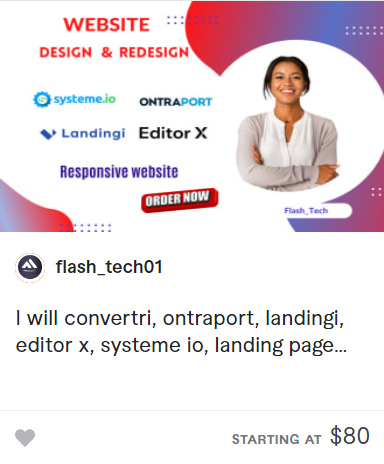 flash_tech01 is starting his services at $80. He can completely design websites. And also he can redesign websites too. Which are already up and running. He also has tons of other skills like designing landing pages, and system logos with web banners.
Tips for Better Email Design
For creating better email designs here are some tips for you.
The Subject of Your Email Must be very good.
Background colors should be dark. And the text must be clear.
Choose fonts that are stylish and easy to read.
The background and design you are using must match your company niche.
Layout and Design must be responsive.
You must add an unsubscribe button at the bottom.
The Bottom Line
Earning Money through email designing is a really easy job. There are a lot of people who are already earning a lot of money through these skills. Most of the people are working as a freelance email designers on Fiverr. Because they can easily make $30 to $50 for each email design. So, if you also want to earn then read this guide completely and start earning.