We see a lot of people circulating a piece of paper. Where they share all the details about their brand. We all know that they are doing advertisements for their product, brand, or more. But do you know how much money they are making by creating those Flyer designs? If the answer is no, then you are in the right place. Today in this article CashMig is going to share with you. How you can Make Money with Flyer Design. we will also teach you how you can design your own flyers and make money. So, read the article till the end not for us but for your own good.
What is Flyer Design?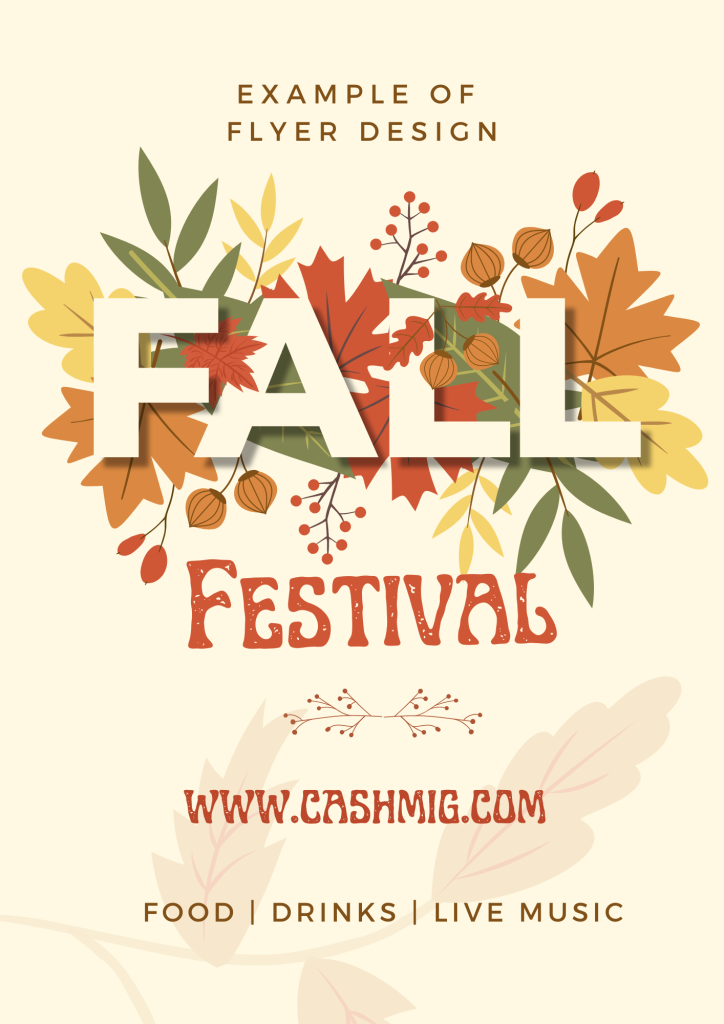 Basically, a Flyer is a simple piece of printed paper or digital paper. And we use that paper to promote over brand or product. We can circulate that in person or by using online mediums. Like, Emails, DMs, and more.
So, the process of designing that piece of paper is known as Flyer Design. People generally use Flyers to generate more leads by promoting their products.
How to Design Flyers using Canva?
Now, you know what are Flyers. So, now we are going to teach you how you can design those flyers. Don't worry if you don't know how you can design flyers. Just sit back and relax we are going to share with you the easiest method for designing flyers.
Once, you will create your own account search for Flyers Design.
You will see tons of different templates. There are more than 60,000 templates for Flyers Design on Canva.
So, keep scrolling down until you find the best fit for yourself.
Now, click on the customize button and customize the design according to yourself.
Once, you are done customizing your design simply click on the share button. And you will see download options and other options to share your design.
Example Of Flyers Design
Here are some flyer designs. Which we designed Using Canva. So, you can check the quality and design of Flyers. It took us only a minute to design these flyers. This means that you can also design your own flyers quickly without any problem.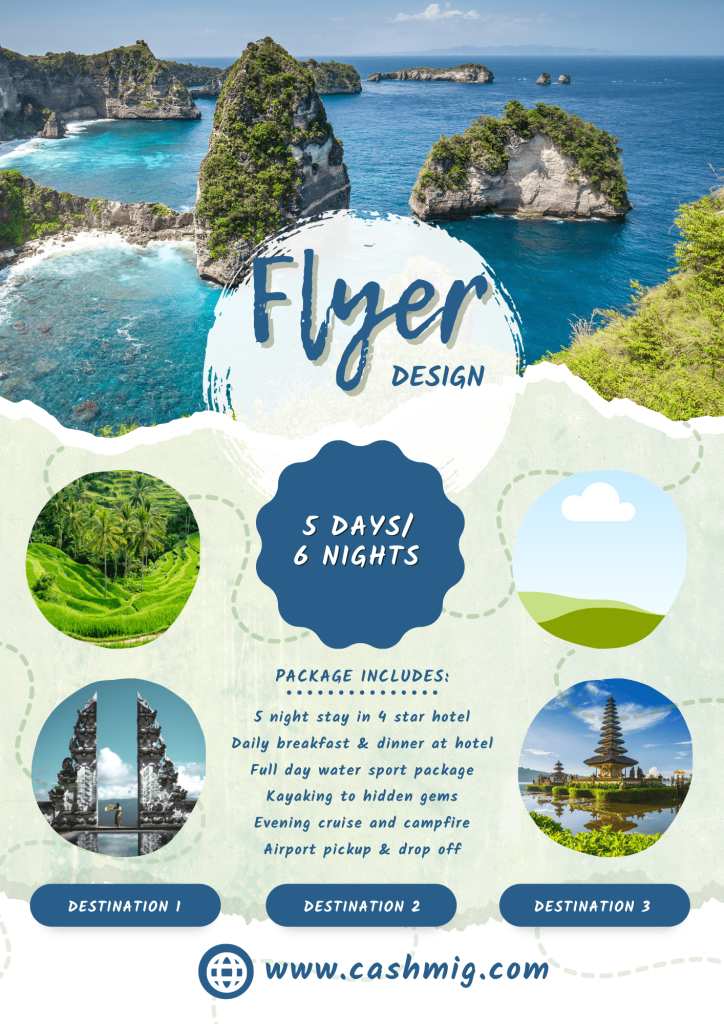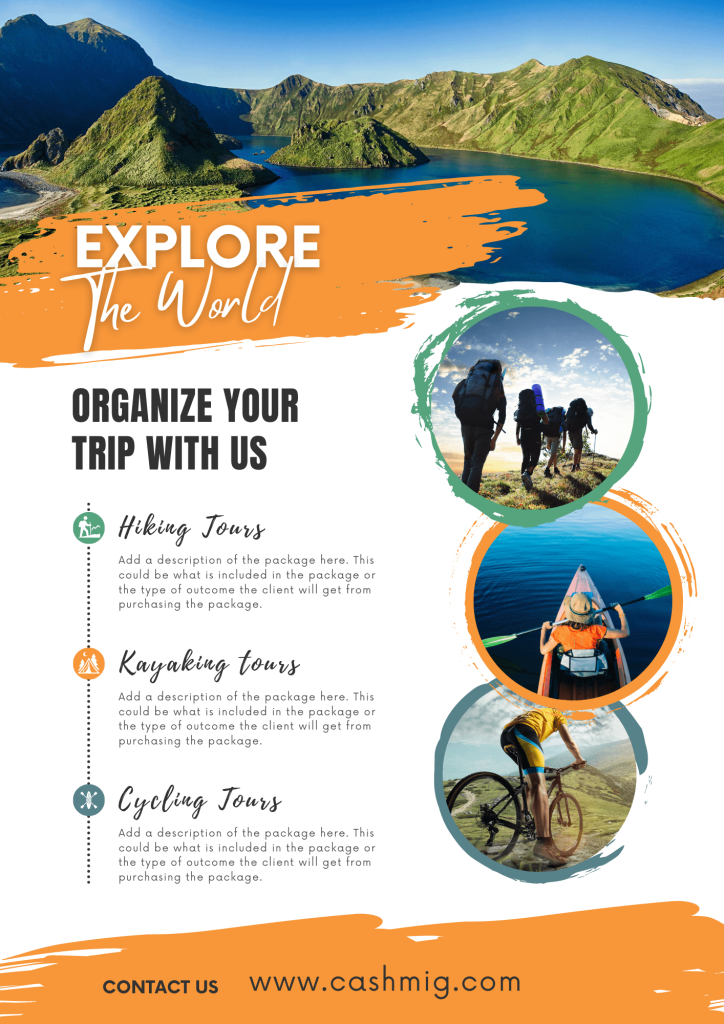 Tips for Designing Best Flyers
If you want to design the best Flyers. So, that you can sell more of them. And when your sale will increase the amount you earn will also increase too. If you want to earn more money. Then it's really necessary for you to read these tips.
Always Remember "Less is More", and don't put unnecessary details into your flyers.
The Design of the flyers must be clear and attractive.
Pick a color scheme and design the complete flyer using that scheme.
Try adding different types of shapes, images, and objects related to your advertisement.
Texts must be easy to read.
Use High-Quality papers if you are going to print your flyers.
Make sure to provide contact details.
How Much Money Can You Make By Designing Flyers?
Now, it's time to share with you how much money can you make on a daily and monthly basis. If you are going to design flyers. First of all, keep in your mind the amount we are going to share with you. Is not the exact amount you are going to make. It will depend on the skills you have also the platform you are using to sell your services.
The average salary of a flyer designer is more than $50,000. Furthermore, there are tons of people who work as a freelancer. The average amount a freelancer makes by designing a single flyer is more than $50.
Make Money With T-Shirts & Merchandise | To Make Money From Infographic Design
Best Places to Make Money as a Flyer Designer
Now, we are going to share with you different income streams. That you can use to make money as a flyer designer. If you want then you can also do your own research on these platforms. And after that, you can simply go with the one which you like the most. Read the article till the end we will also share it with your suggestions. Which we think will be best for you as a Flyer Designer.
Join a Freelancing Platform
If you are thinking about making more than $50 daily by designing flyers. Then you must join a freelancing platform today. Because it can help you make more than that on daily basis. As you know by working as a freelance. You get a chance to work on a single project and make money. So, on the daily basis, you can design more than three to four flyers. And simply can make more than $100 daily as a beginner.
If you are a beginner then you must be wondering which freelancing platform is best. Then let me tell you that you can consider working as a flyer designer on Fiverr. You will find the Link Below Click on it and Join Fiverr. Because they offer very high rates for designing a single flyer. Also, with that, the clients they provide are also trusted. And can pay you a lot of amount for your good work.
Highest Paid Flyers Designer On Fiverr
Here is a list of some of the highest-paid freelancers. Who is currently working on Fiverr as a Flyer designer and Making Money.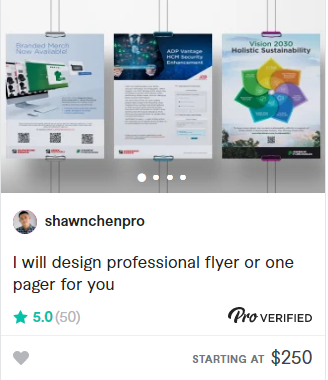 shawchenpro designs professional flyers and charges $250 for designing a single-page flyer. If you want him to design multiple-page flyers with data sheets. Then he will charge you around $600. For $600 he provides six free revisions and the delivery time is 10 days.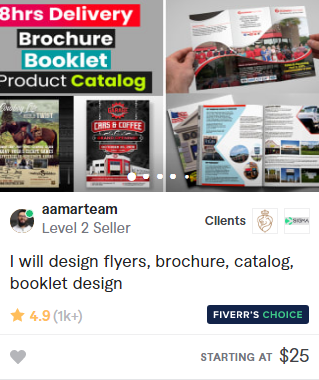 aamarteam is a Level 2 Seller. He can design, flyers, brochures, catalogs, and more. For designing a one-sided flyer he charges $25. Above all for $25 he provides unlimited revisions. And will deliver the product in three days.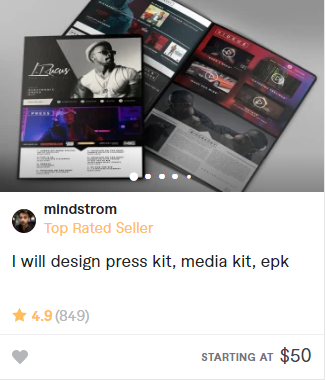 mindstorm is a top-rated seller. Due to this ,he charges $50 for designing basic 2 pages.
Furthermore, he charges $200 for designing premium 8 pages where he provides unlimited revisions. And delivers the project in three days.
Wrapping Up
If you are thinking about making money by just working a few hours a day. Then you can start your career as a Flyer Designer. Because you can easily design three to four flyers on daily basis. And can easily make more than $100 on daily basis. Furthermore, with time when you will gain experience according to your skills you can even earn higher. There are tons of people who are making more than $1000 for designing a single flyer.