When a company launches a new product. Or even if we see a new brand in town. We don't have any knowledge about what they do. And what services they offer. So, they give us a pamphlet or flyer in which they explain everything about their product or organization. That is Brochure design when we see that brochure design we get everything we want to know about that product or company. But, do you know how much they pay a designer? Who helps them in designing that brochure? If the answer is known then you are at the right place. Today in this article we will share everything you need to know about brochure design. And after that, you can start making money so read till the end.
What is Brochure Design?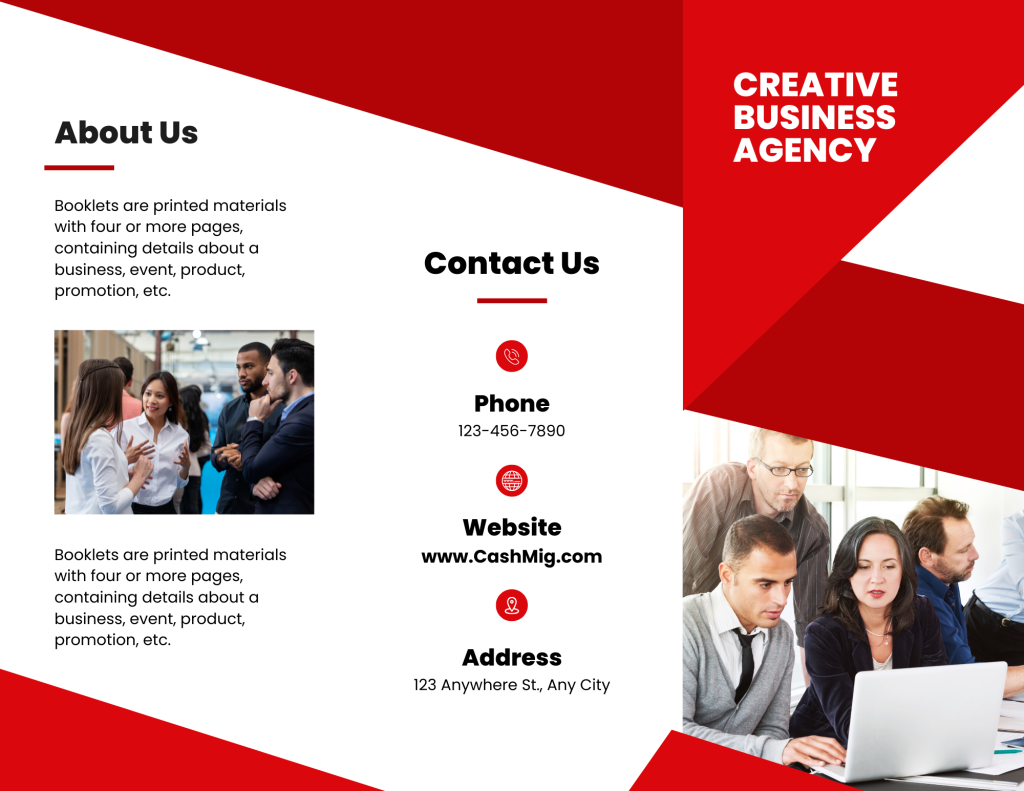 When we visit a hotel or restaurant, they give us their menu from which we know what dishes they offer. So, Brochure Design is used as a tool to promote or advertise a company or product. Furthermore, companies also use this to introduce themselves. That is what they do and what type of services they provide.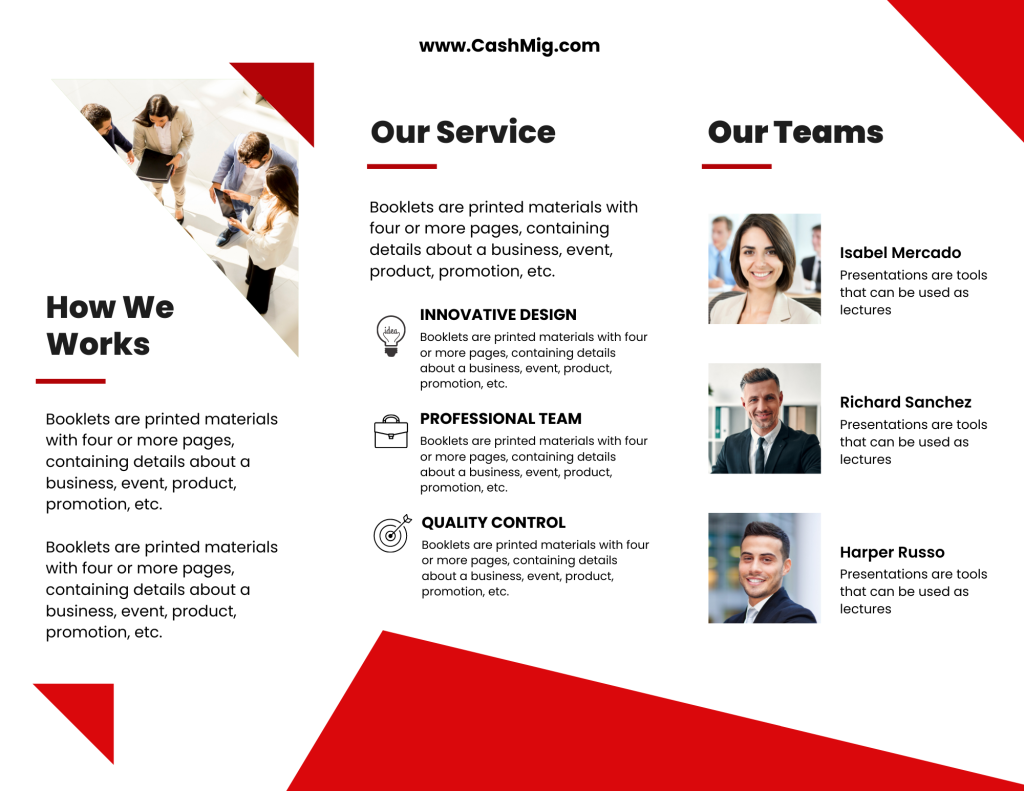 It can help people understand a company's services or goals. Mostly the Brochure designs are in the form of pamphlets or flyers. You can also find more about flyers on our website CashMig. If you want to know more about brochure design read below.
How to Design Brochure With Canva?
If you don't know how you can design a brochure. Or if you are a beginner and want to design professional brochure designs. Then this article will help you a lot.
Sign-Up for a free Canva account.
After that simply go to the search button and search for Brochure Design.
Now, you will see thousands of templates related to Brochure Design.
Keep scrolling down until you find the design which you like the most.
Once, you will find a design click on it and it will take you to the customized options.
In the customization section, you can change and edit everything just by clicking on them.
Once, you are done customizing everything.
Simply, click on the share button and export the file in any format you want.
You can also copy and share your design with a link.
Few Brochure Designed With Canva
Here are a few Brochures Design that we designed using Canva. You can look for yourself how beautiful and professional looking are they. It took us only a minute to design both of these Brochures. So, which means that you can also create these professional-looking designs easily. And it will take only a few minutes.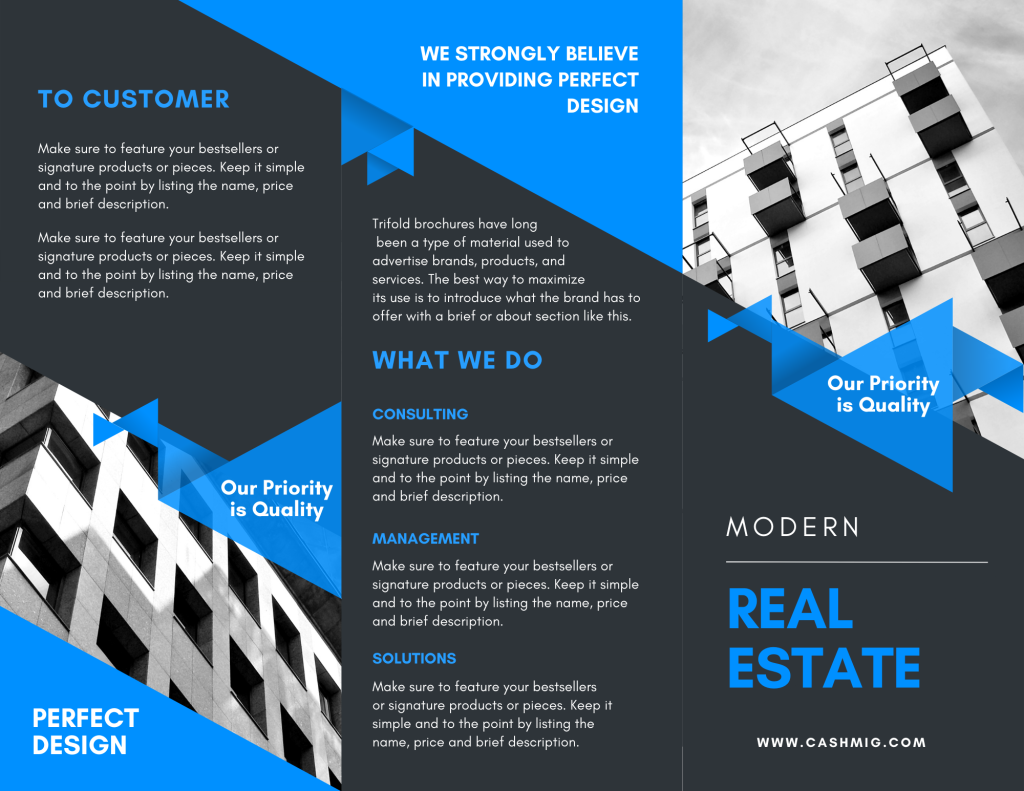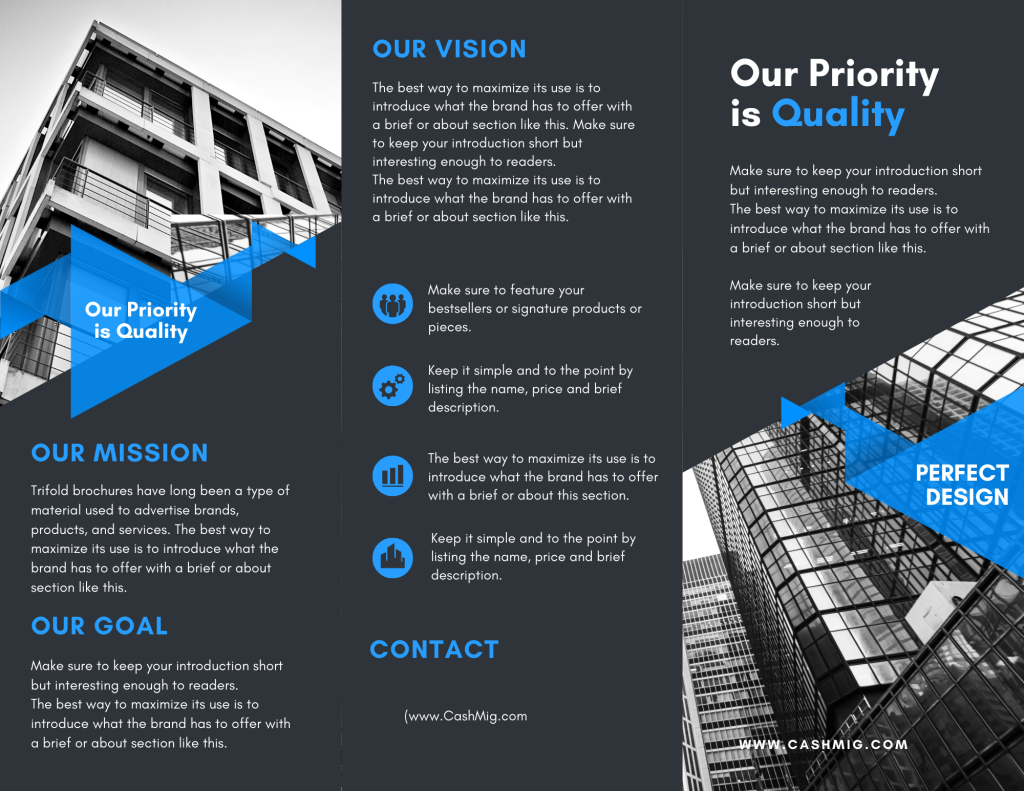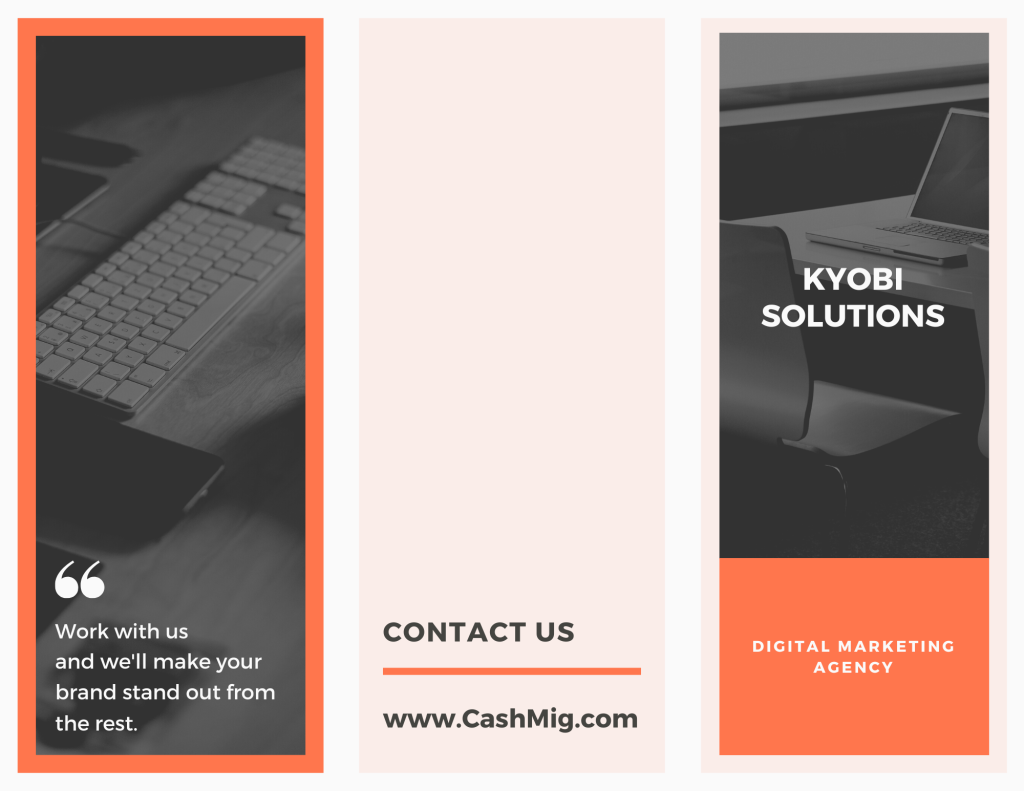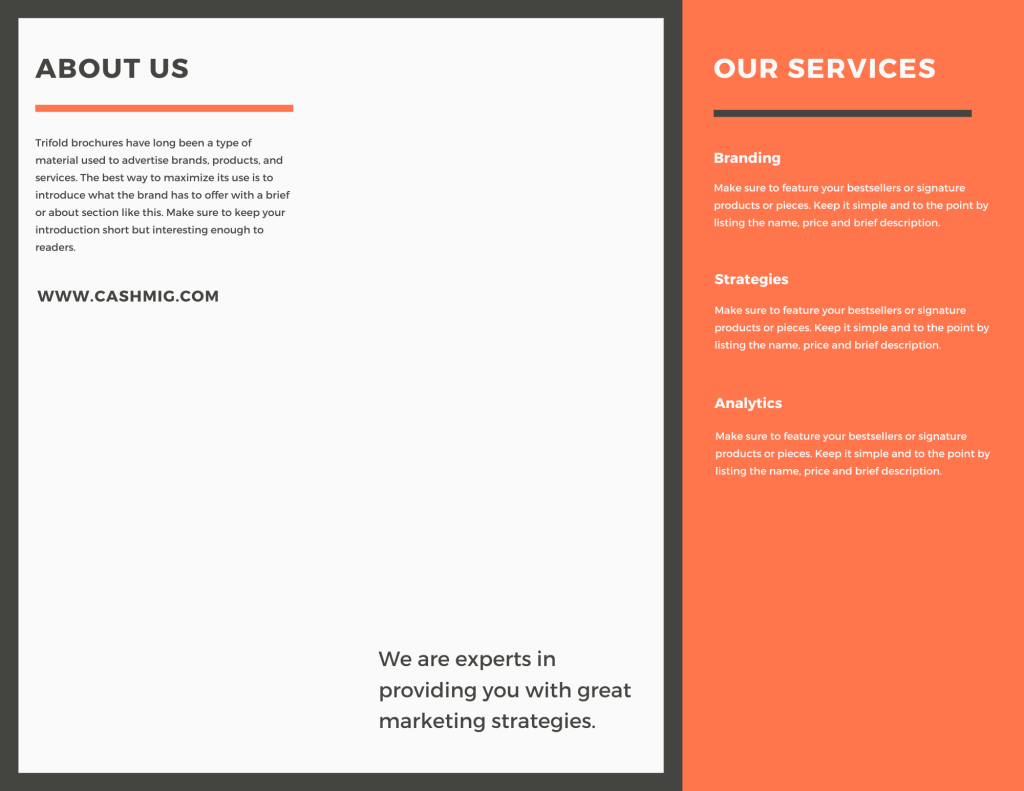 Tips for Designing Professional Looking Brochure
Anyone can design brochure but no one will read them. If no one is going to read them it simply means that they are useless. Let's just if you create a menu for a restaurant. And you put a lot of details and fancy fonts in the menu. Which customers can not understand properly. So, it means that it was all waste of a time.
If you want to design a professional-looking Brochure. And want to benefit a company or product, or simply want to satisfy your clients. Then here are a few tips for you.
First of all, Know your company well and then your customers.
Create a beautiful Brochure design that attracts the eye.
Don't put too many unnecessary details.
Use proper background which is attractive. Don't use unnecessary images.
Fonts must be unique and stylish. Also, easy to read.
Instead of Long paragraphs use key points.
Tell about the vision of the company and how it can benefit customers.
Make sure to use high-quality papers while printing your Brochure Designs.
Make Money With Flyer Design | Make Money With T-Shirts & Merchandise
How Much Can You Make by Brochure Design?
Now, you know everything about Brochure Design. If you will follow over guide on how to design Brochure. Then it means that you can also design professional-looking Brochures. So, it means that now you are able to sell your services to the customer and Make Money. You might be wondering to know how much can i make if I design a single professional-looking Brochure.
You can easily make more than $50 for a single-page brochure design. For designing a complex two to three-page brochure design you can easily make more than $500. But it depends on the skills you have. If you are a beginner you can earn more than $100 daily. But with time when you will become an expert at designing then you can make Thousands of Dollars on the daily basis.
Best Places to Make Money as a Brochure Designer
Here are some of the best ways to make money as a brochure designer. Depending on the number of skills you have you can choose a platform to work with.
Consider Freelancing
You can make a lot of money by working as a Freelancer. Above all, if you are a beginner and thinking about starting your career as a Brochure designer. Then you must consider freelancing. Because it can help you make hundreds of dollars on the daily basis. But for that, you will have to choose the best freelancer platform.
If you don't know which freelance platform is best for you. Below in this article, you will find the link to join Fiverr. Click on that Link and Join Fiverr. It is the best freelancer platform. Because there are a lot of professionals who are working on Fiverr and making a lot of money.
Highest Paid Brochure Designer on Fiverr
Here is the list of some of the professional Brochure designers. Who are selling their services on Fiverr and making a lot of money.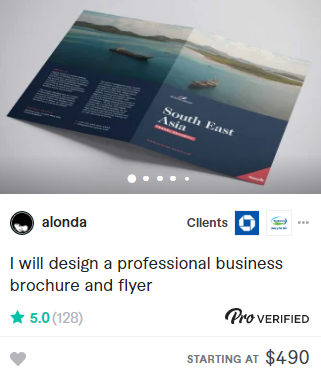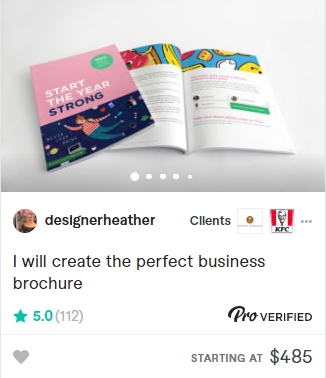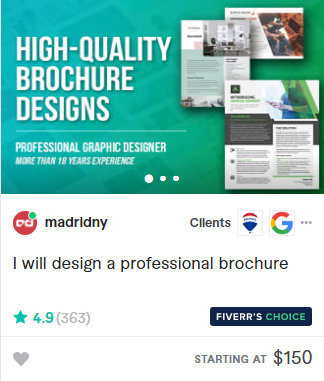 alonda designs professional business brochure design. For designing a high-quality two-page brochure design. He charges $490. Furthermore, for designing a four-page brochure he charges $880.
designerheather creates perfect business brochure designs. And for designing a four-page brochure he charges $490. Above all, for designing a full magazine of 24 to 25 pages. he charges $1,450
madridny has worked with more than 300 clients. And he is starting his services at $150. Where he designs a single brochure. And for designing multiple-page brochure design he charges $480.
The Bottom Line
If you are finding the easiest way to make money. Then you can work as a Brochure designer. And this skill can help you make more than $100 a day. If you don't know how you can design these brochures. Then you can read over the guide above. And you will know everything about designing professional brochures. This skill is very helpful for those who want to Make Money Online.